It's all over and Celtic have to settle for a point. An away draw – even though this was technically on neutral soil – is never a bad thing at this level but the Bhoys will rue an opportunity missed. They had a series of good chances, especially in the final 10 minutes, but couldn't find the killer touch. It leaves them with a point after two games but that won't look too bad if Madrid beat Leipzig later tonight.

","elementId":"6cc22d88-9ab5-4ba9-b8a0-6b48562c59d1″}],"attributes":{"pinned":false,"keyEvent":true,"summary":false},"blockCreatedOn":1663180772000,"blockCreatedOnDisplay":"19.39 BST","blockLastUpdated":1663180948000,"blockLastUpdatedDisplay":"19.42 BST","blockFirstPublished":1663180800000,"blockFirstPublishedDisplay":"19.40 BST","blockFirstPublishedDisplayNoTimezone":"19.40″,"title":"FULL TIME: Shakhtar 1-1 Celtic","contributors":[],"primaryDateLine":"Wed 14 Sep 2022 19.45 BST","secondaryDateLine":"First published on Wed 14 Sep 2022 16.38 BST"},{"id":"63220ff98f0894b39b47f0c1″,"elements":[{"_type":"model.dotcomrendering.pageElements.TextBlockElement","html":"

A strange 45 minutes of football comes to an end. Celtic were completely dominant, deservedly went in front and then Shakhtar suddenly woke up. The equaliser came out of the blue but from that point the hosts threatened further goals and had a second ruled out. Which way will this one go? I've no idea to be honest!

","elementId":"7ea7175a-17ec-4c74-9e91-5d4d9fe5365b"}],"attributes":{"pinned":false,"keyEvent":true,"summary":false},"blockCreatedOn":1663176697000,"blockCreatedOnDisplay":"18.31 BST","blockLastUpdated":1663176921000,"blockLastUpdatedDisplay":"18.35 BST","blockFirstPublished":1663176863000,"blockFirstPublishedDisplay":"18.34 BST","blockFirstPublishedDisplayNoTimezone":"18.34″,"title":"HALF-TIME: Shakhtar 1-1 Celtic","contributors":[],"primaryDateLine":"Wed 14 Sep 2022 19.45 BST","secondaryDateLine":"First published on Wed 14 Sep 2022 16.38 BST"},{"id":"63220c048f0892ec9e8cdeb1″,"elements":[{"_type":"model.dotcomrendering.pageElements.TextBlockElement","html":"

Would you believe it! A classic Shakhtar goal as they completely do Celtic on the break. The ball is threaded through to Mudryk who shows great pace to drive into the box and blast his left-foot shot over Hart. 1-1. Hugely disappointing for Celtic to concede like that.

","elementId":"84105651-d64f-4fa0-9bcb-1909090a2a30″},{"_type":"model.dotcomrendering.pageElements.ImageBlockElement","media":{"allImages":[{"index":0,"fields":{"height":"3112″,"width":"4421″},"mediaType":"Image","mimeType":"image/jpeg","url":"https://media.guim.co.uk/de706fd98c84299d1a7ed22c6b5b6c7b71fa97f4/0_0_4421_3112/4421.jpg"},{"index":1,"fields":{"isMaster":"true","height":"3112″,"width":"4421″},"mediaType":"Image","mimeType":"image/jpeg","url":"https://media.guim.co.uk/de706fd98c84299d1a7ed22c6b5b6c7b71fa97f4/0_0_4421_3112/master/4421.jpg"},{"index":2,"fields":{"height":"1408″,"width":"2000″},"mediaType":"Image","mimeType":"image/jpeg","url":"https://media.guim.co.uk/de706fd98c84299d1a7ed22c6b5b6c7b71fa97f4/0_0_4421_3112/2000.jpg"},{"index":3,"fields":{"height":"704″,"width":"1000″},"mediaType":"Image","mimeType":"image/jpeg","url":"https://media.guim.co.uk/de706fd98c84299d1a7ed22c6b5b6c7b71fa97f4/0_0_4421_3112/1000.jpg"},{"index":4,"fields":{"height":"352″,"width":"500″},"mediaType":"Image","mimeType":"image/jpeg","url":"https://media.guim.co.uk/de706fd98c84299d1a7ed22c6b5b6c7b71fa97f4/0_0_4421_3112/500.jpg"},{"index":5,"fields":{"height":"99″,"width":"140″},"mediaType":"Image","mimeType":"image/jpeg","url":"https://media.guim.co.uk/de706fd98c84299d1a7ed22c6b5b6c7b71fa97f4/0_0_4421_3112/140.jpg"}]},"data":{"alt":"hakhtar Donetsk's Mykhailo Mudryk (L) gets past Celtic's Croatian defender Josip Juranovic to score the 1-1 goal.","caption":"A sturdy strike from Shakhtar Donetsk's Mykhailo Mudryk puts the home side on level terms.","credit":"Photograph: Janek Skarżyński/AFP/Getty Images"},"displayCredit":true,"role":"inline","imageSources":[{"weighting":"inline","srcSet":[{"src":"https://i.guim.co.uk/img/media/de706fd98c84299d1a7ed22c6b5b6c7b71fa97f4/0_0_4421_3112/master/4421.jpg?width=620&quality=85&auto=format&fit=max&s=392f9a1cfc6fc97c400f2797e802de6a","width":620},{"src":"https://i.guim.co.uk/img/media/de706fd98c84299d1a7ed22c6b5b6c7b71fa97f4/0_0_4421_3112/master/4421.jpg?width=620&quality=45&auto=format&fit=max&dpr=2&s=ef5782918cc1ebd010be00bca127aeb9″,"width":1240},{"src":"https://i.guim.co.uk/img/media/de706fd98c84299d1a7ed22c6b5b6c7b71fa97f4/0_0_4421_3112/master/4421.jpg?width=605&quality=85&auto=format&fit=max&s=b58abbf2b9160e4636a567f912d4e768″,"width":605},{"src":"https://i.guim.co.uk/img/media/de706fd98c84299d1a7ed22c6b5b6c7b71fa97f4/0_0_4421_3112/master/4421.jpg?width=605&quality=45&auto=format&fit=max&dpr=2&s=a20a63c5de2f08b8c387b6276d08a5cb","width":1210},{"src":"https://i.guim.co.uk/img/media/de706fd98c84299d1a7ed22c6b5b6c7b71fa97f4/0_0_4421_3112/master/4421.jpg?width=445&quality=85&auto=format&fit=max&s=838957a1a3cc75395884559c2f7372ae","width":445},{"src":"https://i.guim.co.uk/img/media/de706fd98c84299d1a7ed22c6b5b6c7b71fa97f4/0_0_4421_3112/master/4421.jpg?width=445&quality=45&auto=format&fit=max&dpr=2&s=c32cb7e4a04934b2be1f9c3c47aeb267″,"width":890}]},{"weighting":"thumbnail","srcSet":[{"src":"https://i.guim.co.uk/img/media/de706fd98c84299d1a7ed22c6b5b6c7b71fa97f4/0_0_4421_3112/master/4421.jpg?width=140&quality=85&auto=format&fit=max&s=e04402e6a3ecd16e24c33d7586b92f21″,"width":140},{"src":"https://i.guim.co.uk/img/media/de706fd98c84299d1a7ed22c6b5b6c7b71fa97f4/0_0_4421_3112/master/4421.jpg?width=140&quality=45&auto=format&fit=max&dpr=2&s=56e587ca69b9f730d5f1328bde83065b","width":280},{"src":"https://i.guim.co.uk/img/media/de706fd98c84299d1a7ed22c6b5b6c7b71fa97f4/0_0_4421_3112/master/4421.jpg?width=120&quality=85&auto=format&fit=max&s=458757a8f8c69f1b196bf5c16f633dab","width":120},{"src":"https://i.guim.co.uk/img/media/de706fd98c84299d1a7ed22c6b5b6c7b71fa97f4/0_0_4421_3112/master/4421.jpg?width=120&quality=45&auto=format&fit=max&dpr=2&s=ead9435ccb01cf888be645d5a3a8801b","width":240}]},{"weighting":"supporting","srcSet":[{"src":"https://i.guim.co.uk/img/media/de706fd98c84299d1a7ed22c6b5b6c7b71fa97f4/0_0_4421_3112/master/4421.jpg?width=380&quality=85&auto=format&fit=max&s=f68a0b447c6f7d8a0307b3062e11eb3f","width":380},{"src":"https://i.guim.co.uk/img/media/de706fd98c84299d1a7ed22c6b5b6c7b71fa97f4/0_0_4421_3112/master/4421.jpg?width=380&quality=45&auto=format&fit=max&dpr=2&s=c714a6230ee8564e930f110bbf799060″,"width":760},{"src":"https://i.guim.co.uk/img/media/de706fd98c84299d1a7ed22c6b5b6c7b71fa97f4/0_0_4421_3112/master/4421.jpg?width=300&quality=85&auto=format&fit=max&s=77e8a99ae065bd1b80cddee7eb609a67″,"width":300},{"src":"https://i.guim.co.uk/img/media/de706fd98c84299d1a7ed22c6b5b6c7b71fa97f4/0_0_4421_3112/master/4421.jpg?width=300&quality=45&auto=format&fit=max&dpr=2&s=819e5549eea4bd0527dbdba60cc50f97″,"width":600},{"src":"https://i.guim.co.uk/img/media/de706fd98c84299d1a7ed22c6b5b6c7b71fa97f4/0_0_4421_3112/master/4421.jpg?width=620&quality=85&auto=format&fit=max&s=392f9a1cfc6fc97c400f2797e802de6a","width":620},{"src":"https://i.guim.co.uk/img/media/de706fd98c84299d1a7ed22c6b5b6c7b71fa97f4/0_0_4421_3112/master/4421.jpg?width=620&quality=45&auto=format&fit=max&dpr=2&s=ef5782918cc1ebd010be00bca127aeb9″,"width":1240},{"src":"https://i.guim.co.uk/img/media/de706fd98c84299d1a7ed22c6b5b6c7b71fa97f4/0_0_4421_3112/master/4421.jpg?width=605&quality=85&auto=format&fit=max&s=b58abbf2b9160e4636a567f912d4e768″,"width":605},{"src":"https://i.guim.co.uk/img/media/de706fd98c84299d1a7ed22c6b5b6c7b71fa97f4/0_0_4421_3112/master/4421.jpg?width=605&quality=45&auto=format&fit=max&dpr=2&s=a20a63c5de2f08b8c387b6276d08a5cb","width":1210},{"src":"https://i.guim.co.uk/img/media/de706fd98c84299d1a7ed22c6b5b6c7b71fa97f4/0_0_4421_3112/master/4421.jpg?width=445&quality=85&auto=format&fit=max&s=838957a1a3cc75395884559c2f7372ae","width":445},{"src":"https://i.guim.co.uk/img/media/de706fd98c84299d1a7ed22c6b5b6c7b71fa97f4/0_0_4421_3112/master/4421.jpg?width=445&quality=45&auto=format&fit=max&dpr=2&s=c32cb7e4a04934b2be1f9c3c47aeb267″,"width":890}]},{"weighting":"showcase","srcSet":[{"src":"https://i.guim.co.uk/img/media/de706fd98c84299d1a7ed22c6b5b6c7b71fa97f4/0_0_4421_3112/master/4421.jpg?width=860&quality=85&auto=format&fit=max&s=9ce32111cfc794d25c67e99a13eeebe0″,"width":860},{"src":"https://i.guim.co.uk/img/media/de706fd98c84299d1a7ed22c6b5b6c7b71fa97f4/0_0_4421_3112/master/4421.jpg?width=860&quality=45&auto=format&fit=max&dpr=2&s=3f38202ba5fe6387c07f4ce1ebba0b11″,"width":1720},{"src":"https://i.guim.co.uk/img/media/de706fd98c84299d1a7ed22c6b5b6c7b71fa97f4/0_0_4421_3112/master/4421.jpg?width=780&quality=85&auto=format&fit=max&s=6ea879ba0e0dde565dd880eadcd07b1b","width":780},{"src":"https://i.guim.co.uk/img/media/de706fd98c84299d1a7ed22c6b5b6c7b71fa97f4/0_0_4421_3112/master/4421.jpg?width=780&quality=45&auto=format&fit=max&dpr=2&s=a4ff48fc4e3f1eb1d7ebab1dd1101180″,"width":1560},{"src":"https://i.guim.co.uk/img/media/de706fd98c84299d1a7ed22c6b5b6c7b71fa97f4/0_0_4421_3112/master/4421.jpg?width=620&quality=85&auto=format&fit=max&s=392f9a1cfc6fc97c400f2797e802de6a","width":620},{"src":"https://i.guim.co.uk/img/media/de706fd98c84299d1a7ed22c6b5b6c7b71fa97f4/0_0_4421_3112/master/4421.jpg?width=620&quality=45&auto=format&fit=max&dpr=2&s=ef5782918cc1ebd010be00bca127aeb9″,"width":1240},{"src":"https://i.guim.co.uk/img/media/de706fd98c84299d1a7ed22c6b5b6c7b71fa97f4/0_0_4421_3112/master/4421.jpg?width=605&quality=85&auto=format&fit=max&s=b58abbf2b9160e4636a567f912d4e768″,"width":605},{"src":"https://i.guim.co.uk/img/media/de706fd98c84299d1a7ed22c6b5b6c7b71fa97f4/0_0_4421_3112/master/4421.jpg?width=605&quality=45&auto=format&fit=max&dpr=2&s=a20a63c5de2f08b8c387b6276d08a5cb","width":1210},{"src":"https://i.guim.co.uk/img/media/de706fd98c84299d1a7ed22c6b5b6c7b71fa97f4/0_0_4421_3112/master/4421.jpg?width=445&quality=85&auto=format&fit=max&s=838957a1a3cc75395884559c2f7372ae","width":445},{"src":"https://i.guim.co.uk/img/media/de706fd98c84299d1a7ed22c6b5b6c7b71fa97f4/0_0_4421_3112/master/4421.jpg?width=445&quality=45&auto=format&fit=max&dpr=2&s=c32cb7e4a04934b2be1f9c3c47aeb267″,"width":890}]},{"weighting":"halfwidth","srcSet":[{"src":"https://i.guim.co.uk/img/media/de706fd98c84299d1a7ed22c6b5b6c7b71fa97f4/0_0_4421_3112/master/4421.jpg?width=620&quality=85&auto=format&fit=max&s=392f9a1cfc6fc97c400f2797e802de6a","width":620},{"src":"https://i.guim.co.uk/img/media/de706fd98c84299d1a7ed22c6b5b6c7b71fa97f4/0_0_4421_3112/master/4421.jpg?width=620&quality=45&auto=format&fit=max&dpr=2&s=ef5782918cc1ebd010be00bca127aeb9″,"width":1240},{"src":"https://i.guim.co.uk/img/media/de706fd98c84299d1a7ed22c6b5b6c7b71fa97f4/0_0_4421_3112/master/4421.jpg?width=605&quality=85&auto=format&fit=max&s=b58abbf2b9160e4636a567f912d4e768″,"width":605},{"src":"https://i.guim.co.uk/img/media/de706fd98c84299d1a7ed22c6b5b6c7b71fa97f4/0_0_4421_3112/master/4421.jpg?width=605&quality=45&auto=format&fit=max&dpr=2&s=a20a63c5de2f08b8c387b6276d08a5cb","width":1210},{"src":"https://i.guim.co.uk/img/media/de706fd98c84299d1a7ed22c6b5b6c7b71fa97f4/0_0_4421_3112/master/4421.jpg?width=445&quality=85&auto=format&fit=max&s=838957a1a3cc75395884559c2f7372ae","width":445},{"src":"https://i.guim.co.uk/img/media/de706fd98c84299d1a7ed22c6b5b6c7b71fa97f4/0_0_4421_3112/master/4421.jpg?width=445&quality=45&auto=format&fit=max&dpr=2&s=c32cb7e4a04934b2be1f9c3c47aeb267″,"width":890}]},{"weighting":"immersive","srcSet":[{"src":"https://i.guim.co.uk/img/media/de706fd98c84299d1a7ed22c6b5b6c7b71fa97f4/0_0_4421_3112/master/4421.jpg?width=1900&quality=85&auto=format&fit=max&s=912788db812ecb0b1f35c89732a418f3″,"width":1900},{"src":"https://i.guim.co.uk/img/media/de706fd98c84299d1a7ed22c6b5b6c7b71fa97f4/0_0_4421_3112/master/4421.jpg?width=1900&quality=45&auto=format&fit=max&dpr=2&s=fed45f3aa901157871671e6e9aec7026″,"width":3800},{"src":"https://i.guim.co.uk/img/media/de706fd98c84299d1a7ed22c6b5b6c7b71fa97f4/0_0_4421_3112/master/4421.jpg?width=1300&quality=85&auto=format&fit=max&s=512362604ab2ef61c8e970471b949ea1″,"width":1300},{"src":"https://i.guim.co.uk/img/media/de706fd98c84299d1a7ed22c6b5b6c7b71fa97f4/0_0_4421_3112/master/4421.jpg?width=1300&quality=45&auto=format&fit=max&dpr=2&s=aca547bab0156e2058c5db4243a97b25″,"width":2600},{"src":"https://i.guim.co.uk/img/media/de706fd98c84299d1a7ed22c6b5b6c7b71fa97f4/0_0_4421_3112/master/4421.jpg?width=1140&quality=85&auto=format&fit=max&s=4ab6116f5f2f6d484ff8c278d3cba847″,"width":1140},{"src":"https://i.guim.co.uk/img/media/de706fd98c84299d1a7ed22c6b5b6c7b71fa97f4/0_0_4421_3112/master/4421.jpg?width=1140&quality=45&auto=format&fit=max&dpr=2&s=87e440a42424546e574c8b83a96edc6d","width":2280},{"src":"https://i.guim.co.uk/img/media/de706fd98c84299d1a7ed22c6b5b6c7b71fa97f4/0_0_4421_3112/master/4421.jpg?width=980&quality=85&auto=format&fit=max&s=e127f00bfdf623780ba6c1e18a2abaa4″,"width":980},{"src":"https://i.guim.co.uk/img/media/de706fd98c84299d1a7ed22c6b5b6c7b71fa97f4/0_0_4421_3112/master/4421.jpg?width=980&quality=45&auto=format&fit=max&dpr=2&s=0bf5976d931aed38f523bf99cbff09dd","width":1960},{"src":"https://i.guim.co.uk/img/media/de706fd98c84299d1a7ed22c6b5b6c7b71fa97f4/0_0_4421_3112/master/4421.jpg?width=740&quality=85&auto=format&fit=max&s=aa5c25e03de5c843c4d3cf45a816c5e1″,"width":740},{"src":"https://i.guim.co.uk/img/media/de706fd98c84299d1a7ed22c6b5b6c7b71fa97f4/0_0_4421_3112/master/4421.jpg?width=740&quality=45&auto=format&fit=max&dpr=2&s=69bf2075dec1f51e3998981dbc7325b1″,"width":1480},{"src":"https://i.guim.co.uk/img/media/de706fd98c84299d1a7ed22c6b5b6c7b71fa97f4/0_0_4421_3112/master/4421.jpg?width=660&quality=85&auto=format&fit=max&s=1be7f78461429eef6ae83368057e9a28″,"width":660},{"src":"https://i.guim.co.uk/img/media/de706fd98c84299d1a7ed22c6b5b6c7b71fa97f4/0_0_4421_3112/master/4421.jpg?width=660&quality=45&auto=format&fit=max&dpr=2&s=5f14191935f673ea0cb64a6ae63b9ca9″,"width":1320},{"src":"https://i.guim.co.uk/img/media/de706fd98c84299d1a7ed22c6b5b6c7b71fa97f4/0_0_4421_3112/master/4421.jpg?width=480&quality=85&auto=format&fit=max&s=6a21eca385d49bd7cf9a473a531d4575″,"width":480},{"src":"https://i.guim.co.uk/img/media/de706fd98c84299d1a7ed22c6b5b6c7b71fa97f4/0_0_4421_3112/master/4421.jpg?width=480&quality=45&auto=format&fit=max&dpr=2&s=5ca119635bf76c11b149b46d93de6552″,"width":960}]}],"elementId":"4d1cdc84-996c-4810-a7ae-e94eb919b432″},{"_type":"model.dotcomrendering.pageElements.ImageBlockElement","media":{"allImages":[{"index":0,"fields":{"height":"2377″,"width":"3960″},"mediaType":"Image","mimeType":"image/jpeg","url":"https://media.guim.co.uk/4b3e2f6af99e17fe7b66696718eae05513b3195e/1_105_3960_2377/3960.jpg"},{"index":1,"fields":{"isMaster":"true","height":"2377″,"width":"3960″},"mediaType":"Image","mimeType":"image/jpeg","url":"https://media.guim.co.uk/4b3e2f6af99e17fe7b66696718eae05513b3195e/1_105_3960_2377/master/3960.jpg"},{"index":2,"fields":{"height":"1200″,"width":"2000″},"mediaType":"Image","mimeType":"image/jpeg","url":"https://media.guim.co.uk/4b3e2f6af99e17fe7b66696718eae05513b3195e/1_105_3960_2377/2000.jpg"},{"index":3,"fields":{"height":"600″,"width":"1000″},"mediaType":"Image","mimeType":"image/jpeg","url":"https://media.guim.co.uk/4b3e2f6af99e17fe7b66696718eae05513b3195e/1_105_3960_2377/1000.jpg"},{"index":4,"fields":{"height":"300″,"width":"500″},"mediaType":"Image","mimeType":"image/jpeg","url":"https://media.guim.co.uk/4b3e2f6af99e17fe7b66696718eae05513b3195e/1_105_3960_2377/500.jpg"},{"index":5,"fields":{"height":"84″,"width":"140″},"mediaType":"Image","mimeType":"image/jpeg","url":"https://media.guim.co.uk/4b3e2f6af99e17fe7b66696718eae05513b3195e/1_105_3960_2377/140.jpg"}]},"data":{"alt":"Shakhtar Donetsk's Ukrainian forward Mykhailo Mudryk celebrates scoring the 1-1 goal.","caption":"Which Mudryk seems quite happy about.","credit":"Photograph: Janek Skarżyński/AFP/Getty Images"},"displayCredit":true,"role":"inline","imageSources":[{"weighting":"inline","srcSet":[{"src":"https://i.guim.co.uk/img/media/4b3e2f6af99e17fe7b66696718eae05513b3195e/1_105_3960_2377/master/3960.jpg?width=620&quality=85&auto=format&fit=max&s=aacc5ace1bb6e13d5b5fa0ed22dfb255″,"width":620},{"src":"https://i.guim.co.uk/img/media/4b3e2f6af99e17fe7b66696718eae05513b3195e/1_105_3960_2377/master/3960.jpg?width=620&quality=45&auto=format&fit=max&dpr=2&s=51ea3b5116c2848e6995f47069eb050e","width":1240},{"src":"https://i.guim.co.uk/img/media/4b3e2f6af99e17fe7b66696718eae05513b3195e/1_105_3960_2377/master/3960.jpg?width=605&quality=85&auto=format&fit=max&s=a0a31e07e612aafd6f7ac71a7273bd2d","width":605},{"src":"https://i.guim.co.uk/img/media/4b3e2f6af99e17fe7b66696718eae05513b3195e/1_105_3960_2377/master/3960.jpg?width=605&quality=45&auto=format&fit=max&dpr=2&s=b5386ae72bc9b0d436c17be9ce8a01bd","width":1210},{"src":"https://i.guim.co.uk/img/media/4b3e2f6af99e17fe7b66696718eae05513b3195e/1_105_3960_2377/master/3960.jpg?width=445&quality=85&auto=format&fit=max&s=de4e9c1e7306fff0e2392b14409f2c74″,"width":445},{"src":"https://i.guim.co.uk/img/media/4b3e2f6af99e17fe7b66696718eae05513b3195e/1_105_3960_2377/master/3960.jpg?width=445&quality=45&auto=format&fit=max&dpr=2&s=d056b63f3e80972cf90464ce95ce0dba","width":890}]},{"weighting":"thumbnail","srcSet":[{"src":"https://i.guim.co.uk/img/media/4b3e2f6af99e17fe7b66696718eae05513b3195e/1_105_3960_2377/master/3960.jpg?width=140&quality=85&auto=format&fit=max&s=c28602374bef78eddf68640342ff6bfd","width":140},{"src":"https://i.guim.co.uk/img/media/4b3e2f6af99e17fe7b66696718eae05513b3195e/1_105_3960_2377/master/3960.jpg?width=140&quality=45&auto=format&fit=max&dpr=2&s=639d6964530313528c9276d4ca5381f9″,"width":280},{"src":"https://i.guim.co.uk/img/media/4b3e2f6af99e17fe7b66696718eae05513b3195e/1_105_3960_2377/master/3960.jpg?width=120&quality=85&auto=format&fit=max&s=5f7725ee6edb6111659dc6a5e99e4fcd","width":120},{"src":"https://i.guim.co.uk/img/media/4b3e2f6af99e17fe7b66696718eae05513b3195e/1_105_3960_2377/master/3960.jpg?width=120&quality=45&auto=format&fit=max&dpr=2&s=f58d975f3d46a6062ea9c34b7cb8270e","width":240}]},{"weighting":"supporting","srcSet":[{"src":"https://i.guim.co.uk/img/media/4b3e2f6af99e17fe7b66696718eae05513b3195e/1_105_3960_2377/master/3960.jpg?width=380&quality=85&auto=format&fit=max&s=88396783aa22cbefcde4b98706451228″,"width":380},{"src":"https://i.guim.co.uk/img/media/4b3e2f6af99e17fe7b66696718eae05513b3195e/1_105_3960_2377/master/3960.jpg?width=380&quality=45&auto=format&fit=max&dpr=2&s=a1f61c1727629d4bf20822094e73e091″,"width":760},{"src":"https://i.guim.co.uk/img/media/4b3e2f6af99e17fe7b66696718eae05513b3195e/1_105_3960_2377/master/3960.jpg?width=300&quality=85&auto=format&fit=max&s=05f09441d8f9f637bdfc7671d9e52037″,"width":300},{"src":"https://i.guim.co.uk/img/media/4b3e2f6af99e17fe7b66696718eae05513b3195e/1_105_3960_2377/master/3960.jpg?width=300&quality=45&auto=format&fit=max&dpr=2&s=8a4e54d1d96ff06ebc678794ac4a65a1″,"width":600},{"src":"https://i.guim.co.uk/img/media/4b3e2f6af99e17fe7b66696718eae05513b3195e/1_105_3960_2377/master/3960.jpg?width=620&quality=85&auto=format&fit=max&s=aacc5ace1bb6e13d5b5fa0ed22dfb255″,"width":620},{"src":"https://i.guim.co.uk/img/media/4b3e2f6af99e17fe7b66696718eae05513b3195e/1_105_3960_2377/master/3960.jpg?width=620&quality=45&auto=format&fit=max&dpr=2&s=51ea3b5116c2848e6995f47069eb050e","width":1240},{"src":"https://i.guim.co.uk/img/media/4b3e2f6af99e17fe7b66696718eae05513b3195e/1_105_3960_2377/master/3960.jpg?width=605&quality=85&auto=format&fit=max&s=a0a31e07e612aafd6f7ac71a7273bd2d","width":605},{"src":"https://i.guim.co.uk/img/media/4b3e2f6af99e17fe7b66696718eae05513b3195e/1_105_3960_2377/master/3960.jpg?width=605&quality=45&auto=format&fit=max&dpr=2&s=b5386ae72bc9b0d436c17be9ce8a01bd","width":1210},{"src":"https://i.guim.co.uk/img/media/4b3e2f6af99e17fe7b66696718eae05513b3195e/1_105_3960_2377/master/3960.jpg?width=445&quality=85&auto=format&fit=max&s=de4e9c1e7306fff0e2392b14409f2c74″,"width":445},{"src":"https://i.guim.co.uk/img/media/4b3e2f6af99e17fe7b66696718eae05513b3195e/1_105_3960_2377/master/3960.jpg?width=445&quality=45&auto=format&fit=max&dpr=2&s=d056b63f3e80972cf90464ce95ce0dba","width":890}]},{"weighting":"showcase","srcSet":[{"src":"https://i.guim.co.uk/img/media/4b3e2f6af99e17fe7b66696718eae05513b3195e/1_105_3960_2377/master/3960.jpg?width=860&quality=85&auto=format&fit=max&s=a647ba1e91396f97250e2d049791e5f5″,"width":860},{"src":"https://i.guim.co.uk/img/media/4b3e2f6af99e17fe7b66696718eae05513b3195e/1_105_3960_2377/master/3960.jpg?width=860&quality=45&auto=format&fit=max&dpr=2&s=03ef3786bbeace2c69f2592d6241f8de","width":1720},{"src":"https://i.guim.co.uk/img/media/4b3e2f6af99e17fe7b66696718eae05513b3195e/1_105_3960_2377/master/3960.jpg?width=780&quality=85&auto=format&fit=max&s=eb6cc789ececa49f424a97a1b33ece50″,"width":780},{"src":"https://i.guim.co.uk/img/media/4b3e2f6af99e17fe7b66696718eae05513b3195e/1_105_3960_2377/master/3960.jpg?width=780&quality=45&auto=format&fit=max&dpr=2&s=d0fc8ab68c595fa6cd5262dac97c838c","width":1560},{"src":"https://i.guim.co.uk/img/media/4b3e2f6af99e17fe7b66696718eae05513b3195e/1_105_3960_2377/master/3960.jpg?width=620&quality=85&auto=format&fit=max&s=aacc5ace1bb6e13d5b5fa0ed22dfb255″,"width":620},{"src":"https://i.guim.co.uk/img/media/4b3e2f6af99e17fe7b66696718eae05513b3195e/1_105_3960_2377/master/3960.jpg?width=620&quality=45&auto=format&fit=max&dpr=2&s=51ea3b5116c2848e6995f47069eb050e","width":1240},{"src":"https://i.guim.co.uk/img/media/4b3e2f6af99e17fe7b66696718eae05513b3195e/1_105_3960_2377/master/3960.jpg?width=605&quality=85&auto=format&fit=max&s=a0a31e07e612aafd6f7ac71a7273bd2d","width":605},{"src":"https://i.guim.co.uk/img/media/4b3e2f6af99e17fe7b66696718eae05513b3195e/1_105_3960_2377/master/3960.jpg?width=605&quality=45&auto=format&fit=max&dpr=2&s=b5386ae72bc9b0d436c17be9ce8a01bd","width":1210},{"src":"https://i.guim.co.uk/img/media/4b3e2f6af99e17fe7b66696718eae05513b3195e/1_105_3960_2377/master/3960.jpg?width=445&quality=85&auto=format&fit=max&s=de4e9c1e7306fff0e2392b14409f2c74″,"width":445},{"src":"https://i.guim.co.uk/img/media/4b3e2f6af99e17fe7b66696718eae05513b3195e/1_105_3960_2377/master/3960.jpg?width=445&quality=45&auto=format&fit=max&dpr=2&s=d056b63f3e80972cf90464ce95ce0dba","width":890}]},{"weighting":"halfwidth","srcSet":[{"src":"https://i.guim.co.uk/img/media/4b3e2f6af99e17fe7b66696718eae05513b3195e/1_105_3960_2377/master/3960.jpg?width=620&quality=85&auto=format&fit=max&s=aacc5ace1bb6e13d5b5fa0ed22dfb255″,"width":620},{"src":"https://i.guim.co.uk/img/media/4b3e2f6af99e17fe7b66696718eae05513b3195e/1_105_3960_2377/master/3960.jpg?width=620&quality=45&auto=format&fit=max&dpr=2&s=51ea3b5116c2848e6995f47069eb050e","width":1240},{"src":"https://i.guim.co.uk/img/media/4b3e2f6af99e17fe7b66696718eae05513b3195e/1_105_3960_2377/master/3960.jpg?width=605&quality=85&auto=format&fit=max&s=a0a31e07e612aafd6f7ac71a7273bd2d","width":605},{"src":"https://i.guim.co.uk/img/media/4b3e2f6af99e17fe7b66696718eae05513b3195e/1_105_3960_2377/master/3960.jpg?width=605&quality=45&auto=format&fit=max&dpr=2&s=b5386ae72bc9b0d436c17be9ce8a01bd","width":1210},{"src":"https://i.guim.co.uk/img/media/4b3e2f6af99e17fe7b66696718eae05513b3195e/1_105_3960_2377/master/3960.jpg?width=445&quality=85&auto=format&fit=max&s=de4e9c1e7306fff0e2392b14409f2c74″,"width":445},{"src":"https://i.guim.co.uk/img/media/4b3e2f6af99e17fe7b66696718eae05513b3195e/1_105_3960_2377/master/3960.jpg?width=445&quality=45&auto=format&fit=max&dpr=2&s=d056b63f3e80972cf90464ce95ce0dba","width":890}]},{"weighting":"immersive","srcSet":[{"src":"https://i.guim.co.uk/img/media/4b3e2f6af99e17fe7b66696718eae05513b3195e/1_105_3960_2377/master/3960.jpg?width=1900&quality=85&auto=format&fit=max&s=05993065b4a5bad967ad9a5f4446b27e","width":1900},{"src":"https://i.guim.co.uk/img/media/4b3e2f6af99e17fe7b66696718eae05513b3195e/1_105_3960_2377/master/3960.jpg?width=1900&quality=45&auto=format&fit=max&dpr=2&s=3cfe1b986f02fcc5a52266e2bc559210″,"width":3800},{"src":"https://i.guim.co.uk/img/media/4b3e2f6af99e17fe7b66696718eae05513b3195e/1_105_3960_2377/master/3960.jpg?width=1300&quality=85&auto=format&fit=max&s=b2e906af28f3e20d70b5bc7d31228db9″,"width":1300},{"src":"https://i.guim.co.uk/img/media/4b3e2f6af99e17fe7b66696718eae05513b3195e/1_105_3960_2377/master/3960.jpg?width=1300&quality=45&auto=format&fit=max&dpr=2&s=31d11aac4a2f819416d9b6987e10a959″,"width":2600},{"src":"https://i.guim.co.uk/img/media/4b3e2f6af99e17fe7b66696718eae05513b3195e/1_105_3960_2377/master/3960.jpg?width=1140&quality=85&auto=format&fit=max&s=8d337aa594bd1c2d37d704be0a5248a4″,"width":1140},{"src":"https://i.guim.co.uk/img/media/4b3e2f6af99e17fe7b66696718eae05513b3195e/1_105_3960_2377/master/3960.jpg?width=1140&quality=45&auto=format&fit=max&dpr=2&s=da8e233e8da5694e261456b61e3c63a2″,"width":2280},{"src":"https://i.guim.co.uk/img/media/4b3e2f6af99e17fe7b66696718eae05513b3195e/1_105_3960_2377/master/3960.jpg?width=980&quality=85&auto=format&fit=max&s=73dafdb8cc5cb1aca4a4e50a1892421c","width":980},{"src":"https://i.guim.co.uk/img/media/4b3e2f6af99e17fe7b66696718eae05513b3195e/1_105_3960_2377/master/3960.jpg?width=980&quality=45&auto=format&fit=max&dpr=2&s=5984a8989e6ecb794fdf6509380fc5f9″,"width":1960},{"src":"https://i.guim.co.uk/img/media/4b3e2f6af99e17fe7b66696718eae05513b3195e/1_105_3960_2377/master/3960.jpg?width=740&quality=85&auto=format&fit=max&s=5685e645c737b0a85f587adcf498027a","width":740},{"src":"https://i.guim.co.uk/img/media/4b3e2f6af99e17fe7b66696718eae05513b3195e/1_105_3960_2377/master/3960.jpg?width=740&quality=45&auto=format&fit=max&dpr=2&s=691a1b265aed5fc4ef67e78e932db8e3″,"width":1480},{"src":"https://i.guim.co.uk/img/media/4b3e2f6af99e17fe7b66696718eae05513b3195e/1_105_3960_2377/master/3960.jpg?width=660&quality=85&auto=format&fit=max&s=695c104cb5a27ed0dd31766bd229a722″,"width":660},{"src":"https://i.guim.co.uk/img/media/4b3e2f6af99e17fe7b66696718eae05513b3195e/1_105_3960_2377/master/3960.jpg?width=660&quality=45&auto=format&fit=max&dpr=2&s=600f883b20b942b14984f28bc0f21b06″,"width":1320},{"src":"https://i.guim.co.uk/img/media/4b3e2f6af99e17fe7b66696718eae05513b3195e/1_105_3960_2377/master/3960.jpg?width=480&quality=85&auto=format&fit=max&s=03bfd9c6ecdb4684aa58ea789ed459c2″,"width":480},{"src":"https://i.guim.co.uk/img/media/4b3e2f6af99e17fe7b66696718eae05513b3195e/1_105_3960_2377/master/3960.jpg?width=480&quality=45&auto=format&fit=max&dpr=2&s=7e779a0eca904216a549b5959a073414″,"width":960}]}],"elementId":"0663a736-021f-48a1-ae73-386cf3fc4b7b"},{"_type":"model.dotcomrendering.pageElements.ImageBlockElement","media":{"allImages":[{"index":0,"fields":{"height":"1759″,"width":"2933″},"mediaType":"Image","mimeType":"image/jpeg","url":"https://media.guim.co.uk/a6f55dcc81cdcaa8e14dba935f10d8597dfe774b/0_115_2933_1759/2933.jpg"},{"index":1,"fields":{"isMaster":"true","height":"1759″,"width":"2933″},"mediaType":"Image","mimeType":"image/jpeg","url":"https://media.guim.co.uk/a6f55dcc81cdcaa8e14dba935f10d8597dfe774b/0_115_2933_1759/master/2933.jpg"},{"index":2,"fields":{"height":"1200″,"width":"2000″},"mediaType":"Image","mimeType":"image/jpeg","url":"https://media.guim.co.uk/a6f55dcc81cdcaa8e14dba935f10d8597dfe774b/0_115_2933_1759/2000.jpg"},{"index":3,"fields":{"height":"600″,"width":"1000″},"mediaType":"Image","mimeType":"image/jpeg","url":"https://media.guim.co.uk/a6f55dcc81cdcaa8e14dba935f10d8597dfe774b/0_115_2933_1759/1000.jpg"},{"index":4,"fields":{"height":"300″,"width":"500″},"mediaType":"Image","mimeType":"image/jpeg","url":"https://media.guim.co.uk/a6f55dcc81cdcaa8e14dba935f10d8597dfe774b/0_115_2933_1759/500.jpg"},{"index":5,"fields":{"height":"84″,"width":"140″},"mediaType":"Image","mimeType":"image/jpeg","url":"https://media.guim.co.uk/a6f55dcc81cdcaa8e14dba935f10d8597dfe774b/0_115_2933_1759/140.jpg"}]},"data":{"alt":"Left to right, Celtic's Callum McGregor, Moritz Jenz, Reo Hatate and Greg Taylor appear dejected after Shakhtar Donetsk score their equaliser.","caption":"Whilst (left to right), Celtic's Callum McGregor, Moritz Jenz, Reo Hatate and Greg Taylor appear dejected after losing their lead.","credit":"Photograph: Rafal Oleksiewicz/PA"},"displayCredit":true,"role":"inline","imageSources":[{"weighting":"inline","srcSet":[{"src":"https://i.guim.co.uk/img/media/a6f55dcc81cdcaa8e14dba935f10d8597dfe774b/0_115_2933_1759/master/2933.jpg?width=620&quality=85&auto=format&fit=max&s=c681df1e0d022650caa5a15f799cb504″,"width":620},{"src":"https://i.guim.co.uk/img/media/a6f55dcc81cdcaa8e14dba935f10d8597dfe774b/0_115_2933_1759/master/2933.jpg?width=620&quality=45&auto=format&fit=max&dpr=2&s=8f3533c2c0ddb27d89b71c523d5da39c","width":1240},{"src":"https://i.guim.co.uk/img/media/a6f55dcc81cdcaa8e14dba935f10d8597dfe774b/0_115_2933_1759/master/2933.jpg?width=605&quality=85&auto=format&fit=max&s=a7e19a42a5a6412558f95e581e8a6df7″,"width":605},{"src":"https://i.guim.co.uk/img/media/a6f55dcc81cdcaa8e14dba935f10d8597dfe774b/0_115_2933_1759/master/2933.jpg?width=605&quality=45&auto=format&fit=max&dpr=2&s=8cc9263070c479081694aa8e56e023b5″,"width":1210},{"src":"https://i.guim.co.uk/img/media/a6f55dcc81cdcaa8e14dba935f10d8597dfe774b/0_115_2933_1759/master/2933.jpg?width=445&quality=85&auto=format&fit=max&s=9894ba21a9cbff2c07a85312219639d2″,"width":445},{"src":"https://i.guim.co.uk/img/media/a6f55dcc81cdcaa8e14dba935f10d8597dfe774b/0_115_2933_1759/master/2933.jpg?width=445&quality=45&auto=format&fit=max&dpr=2&s=bbfde50c242f70498335ab3b62358074″,"width":890}]},{"weighting":"thumbnail","srcSet":[{"src":"https://i.guim.co.uk/img/media/a6f55dcc81cdcaa8e14dba935f10d8597dfe774b/0_115_2933_1759/master/2933.jpg?width=140&quality=85&auto=format&fit=max&s=af63b9a326f3c2836d89eb9fe15fea37″,"width":140},{"src":"https://i.guim.co.uk/img/media/a6f55dcc81cdcaa8e14dba935f10d8597dfe774b/0_115_2933_1759/master/2933.jpg?width=140&quality=45&auto=format&fit=max&dpr=2&s=58fd40136ad2ccd1a1a04e20eb995335″,"width":280},{"src":"https://i.guim.co.uk/img/media/a6f55dcc81cdcaa8e14dba935f10d8597dfe774b/0_115_2933_1759/master/2933.jpg?width=120&quality=85&auto=format&fit=max&s=c74b5b6a1721adcdd5addfb151233f35″,"width":120},{"src":"https://i.guim.co.uk/img/media/a6f55dcc81cdcaa8e14dba935f10d8597dfe774b/0_115_2933_1759/master/2933.jpg?width=120&quality=45&auto=format&fit=max&dpr=2&s=d07d16b16e97de490efe536d2940bf88″,"width":240}]},{"weighting":"supporting","srcSet":[{"src":"https://i.guim.co.uk/img/media/a6f55dcc81cdcaa8e14dba935f10d8597dfe774b/0_115_2933_1759/master/2933.jpg?width=380&quality=85&auto=format&fit=max&s=03b11b1d6b86857552ed02748c1018b4″,"width":380},{"src":"https://i.guim.co.uk/img/media/a6f55dcc81cdcaa8e14dba935f10d8597dfe774b/0_115_2933_1759/master/2933.jpg?width=380&quality=45&auto=format&fit=max&dpr=2&s=407e4ba550f1e642228701a8d26f48d3″,"width":760},{"src":"https://i.guim.co.uk/img/media/a6f55dcc81cdcaa8e14dba935f10d8597dfe774b/0_115_2933_1759/master/2933.jpg?width=300&quality=85&auto=format&fit=max&s=1fcb128301c5f113005a25afba2b773e","width":300},{"src":"https://i.guim.co.uk/img/media/a6f55dcc81cdcaa8e14dba935f10d8597dfe774b/0_115_2933_1759/master/2933.jpg?width=300&quality=45&auto=format&fit=max&dpr=2&s=abbfa0f571e57021d06b3df542643472″,"width":600},{"src":"https://i.guim.co.uk/img/media/a6f55dcc81cdcaa8e14dba935f10d8597dfe774b/0_115_2933_1759/master/2933.jpg?width=620&quality=85&auto=format&fit=max&s=c681df1e0d022650caa5a15f799cb504″,"width":620},{"src":"https://i.guim.co.uk/img/media/a6f55dcc81cdcaa8e14dba935f10d8597dfe774b/0_115_2933_1759/master/2933.jpg?width=620&quality=45&auto=format&fit=max&dpr=2&s=8f3533c2c0ddb27d89b71c523d5da39c","width":1240},{"src":"https://i.guim.co.uk/img/media/a6f55dcc81cdcaa8e14dba935f10d8597dfe774b/0_115_2933_1759/master/2933.jpg?width=605&quality=85&auto=format&fit=max&s=a7e19a42a5a6412558f95e581e8a6df7″,"width":605},{"src":"https://i.guim.co.uk/img/media/a6f55dcc81cdcaa8e14dba935f10d8597dfe774b/0_115_2933_1759/master/2933.jpg?width=605&quality=45&auto=format&fit=max&dpr=2&s=8cc9263070c479081694aa8e56e023b5″,"width":1210},{"src":"https://i.guim.co.uk/img/media/a6f55dcc81cdcaa8e14dba935f10d8597dfe774b/0_115_2933_1759/master/2933.jpg?width=445&quality=85&auto=format&fit=max&s=9894ba21a9cbff2c07a85312219639d2″,"width":445},{"src":"https://i.guim.co.uk/img/media/a6f55dcc81cdcaa8e14dba935f10d8597dfe774b/0_115_2933_1759/master/2933.jpg?width=445&quality=45&auto=format&fit=max&dpr=2&s=bbfde50c242f70498335ab3b62358074″,"width":890}]},{"weighting":"showcase","srcSet":[{"src":"https://i.guim.co.uk/img/media/a6f55dcc81cdcaa8e14dba935f10d8597dfe774b/0_115_2933_1759/master/2933.jpg?width=860&quality=85&auto=format&fit=max&s=da72a7196269a6d153dc7c519b35ac03″,"width":860},{"src":"https://i.guim.co.uk/img/media/a6f55dcc81cdcaa8e14dba935f10d8597dfe774b/0_115_2933_1759/master/2933.jpg?width=860&quality=45&auto=format&fit=max&dpr=2&s=40f6133aa58e7f3ee3d69597d00fa553″,"width":1720},{"src":"https://i.guim.co.uk/img/media/a6f55dcc81cdcaa8e14dba935f10d8597dfe774b/0_115_2933_1759/master/2933.jpg?width=780&quality=85&auto=format&fit=max&s=011eed097c06ead68847c60f4abb28e2″,"width":780},{"src":"https://i.guim.co.uk/img/media/a6f55dcc81cdcaa8e14dba935f10d8597dfe774b/0_115_2933_1759/master/2933.jpg?width=780&quality=45&auto=format&fit=max&dpr=2&s=2ef3c4fba0de31538a2f04535aa3dfdb","width":1560},{"src":"https://i.guim.co.uk/img/media/a6f55dcc81cdcaa8e14dba935f10d8597dfe774b/0_115_2933_1759/master/2933.jpg?width=620&quality=85&auto=format&fit=max&s=c681df1e0d022650caa5a15f799cb504″,"width":620},{"src":"https://i.guim.co.uk/img/media/a6f55dcc81cdcaa8e14dba935f10d8597dfe774b/0_115_2933_1759/master/2933.jpg?width=620&quality=45&auto=format&fit=max&dpr=2&s=8f3533c2c0ddb27d89b71c523d5da39c","width":1240},{"src":"https://i.guim.co.uk/img/media/a6f55dcc81cdcaa8e14dba935f10d8597dfe774b/0_115_2933_1759/master/2933.jpg?width=605&quality=85&auto=format&fit=max&s=a7e19a42a5a6412558f95e581e8a6df7″,"width":605},{"src":"https://i.guim.co.uk/img/media/a6f55dcc81cdcaa8e14dba935f10d8597dfe774b/0_115_2933_1759/master/2933.jpg?width=605&quality=45&auto=format&fit=max&dpr=2&s=8cc9263070c479081694aa8e56e023b5″,"width":1210},{"src":"https://i.guim.co.uk/img/media/a6f55dcc81cdcaa8e14dba935f10d8597dfe774b/0_115_2933_1759/master/2933.jpg?width=445&quality=85&auto=format&fit=max&s=9894ba21a9cbff2c07a85312219639d2″,"width":445},{"src":"https://i.guim.co.uk/img/media/a6f55dcc81cdcaa8e14dba935f10d8597dfe774b/0_115_2933_1759/master/2933.jpg?width=445&quality=45&auto=format&fit=max&dpr=2&s=bbfde50c242f70498335ab3b62358074″,"width":890}]},{"weighting":"halfwidth","srcSet":[{"src":"https://i.guim.co.uk/img/media/a6f55dcc81cdcaa8e14dba935f10d8597dfe774b/0_115_2933_1759/master/2933.jpg?width=620&quality=85&auto=format&fit=max&s=c681df1e0d022650caa5a15f799cb504″,"width":620},{"src":"https://i.guim.co.uk/img/media/a6f55dcc81cdcaa8e14dba935f10d8597dfe774b/0_115_2933_1759/master/2933.jpg?width=620&quality=45&auto=format&fit=max&dpr=2&s=8f3533c2c0ddb27d89b71c523d5da39c","width":1240},{"src":"https://i.guim.co.uk/img/media/a6f55dcc81cdcaa8e14dba935f10d8597dfe774b/0_115_2933_1759/master/2933.jpg?width=605&quality=85&auto=format&fit=max&s=a7e19a42a5a6412558f95e581e8a6df7″,"width":605},{"src":"https://i.guim.co.uk/img/media/a6f55dcc81cdcaa8e14dba935f10d8597dfe774b/0_115_2933_1759/master/2933.jpg?width=605&quality=45&auto=format&fit=max&dpr=2&s=8cc9263070c479081694aa8e56e023b5″,"width":1210},{"src":"https://i.guim.co.uk/img/media/a6f55dcc81cdcaa8e14dba935f10d8597dfe774b/0_115_2933_1759/master/2933.jpg?width=445&quality=85&auto=format&fit=max&s=9894ba21a9cbff2c07a85312219639d2″,"width":445},{"src":"https://i.guim.co.uk/img/media/a6f55dcc81cdcaa8e14dba935f10d8597dfe774b/0_115_2933_1759/master/2933.jpg?width=445&quality=45&auto=format&fit=max&dpr=2&s=bbfde50c242f70498335ab3b62358074″,"width":890}]},{"weighting":"immersive","srcSet":[{"src":"https://i.guim.co.uk/img/media/a6f55dcc81cdcaa8e14dba935f10d8597dfe774b/0_115_2933_1759/master/2933.jpg?width=1900&quality=85&auto=format&fit=max&s=8e225b55ea73cb54f9ea8e6edc675507″,"width":1900},{"src":"https://i.guim.co.uk/img/media/a6f55dcc81cdcaa8e14dba935f10d8597dfe774b/0_115_2933_1759/master/2933.jpg?width=1900&quality=45&auto=format&fit=max&dpr=2&s=b7cdd1ada4be757442293d29991df155″,"width":3800},{"src":"https://i.guim.co.uk/img/media/a6f55dcc81cdcaa8e14dba935f10d8597dfe774b/0_115_2933_1759/master/2933.jpg?width=1300&quality=85&auto=format&fit=max&s=d23afb63084cbd6bde2f68ef0db02f05″,"width":1300},{"src":"https://i.guim.co.uk/img/media/a6f55dcc81cdcaa8e14dba935f10d8597dfe774b/0_115_2933_1759/master/2933.jpg?width=1300&quality=45&auto=format&fit=max&dpr=2&s=f095e1248ccd9fe05f47fa560b35eaa9″,"width":2600},{"src":"https://i.guim.co.uk/img/media/a6f55dcc81cdcaa8e14dba935f10d8597dfe774b/0_115_2933_1759/master/2933.jpg?width=1140&quality=85&auto=format&fit=max&s=87f36643ef5729f7edd08c8caa03bab2″,"width":1140},{"src":"https://i.guim.co.uk/img/media/a6f55dcc81cdcaa8e14dba935f10d8597dfe774b/0_115_2933_1759/master/2933.jpg?width=1140&quality=45&auto=format&fit=max&dpr=2&s=da457ce57689d60a460a2acb2f7be9e0″,"width":2280},{"src":"https://i.guim.co.uk/img/media/a6f55dcc81cdcaa8e14dba935f10d8597dfe774b/0_115_2933_1759/master/2933.jpg?width=980&quality=85&auto=format&fit=max&s=9510b56f0b0d9a2bd09569916a360a36″,"width":980},{"src":"https://i.guim.co.uk/img/media/a6f55dcc81cdcaa8e14dba935f10d8597dfe774b/0_115_2933_1759/master/2933.jpg?width=980&quality=45&auto=format&fit=max&dpr=2&s=12212f8c45e78b674b7919a1a4fd34cf","width":1960},{"src":"https://i.guim.co.uk/img/media/a6f55dcc81cdcaa8e14dba935f10d8597dfe774b/0_115_2933_1759/master/2933.jpg?width=740&quality=85&auto=format&fit=max&s=0c794fec03e9fe3c236d1b07a1ccfc26″,"width":740},{"src":"https://i.guim.co.uk/img/media/a6f55dcc81cdcaa8e14dba935f10d8597dfe774b/0_115_2933_1759/master/2933.jpg?width=740&quality=45&auto=format&fit=max&dpr=2&s=0c14220a87dc2214d938ab63f8b9457d","width":1480},{"src":"https://i.guim.co.uk/img/media/a6f55dcc81cdcaa8e14dba935f10d8597dfe774b/0_115_2933_1759/master/2933.jpg?width=660&quality=85&auto=format&fit=max&s=f235a85574124fb955ea6b32c6882b40″,"width":660},{"src":"https://i.guim.co.uk/img/media/a6f55dcc81cdcaa8e14dba935f10d8597dfe774b/0_115_2933_1759/master/2933.jpg?width=660&quality=45&auto=format&fit=max&dpr=2&s=f3824f289f1789e82b59e3dfd9c8c5d9″,"width":1320},{"src":"https://i.guim.co.uk/img/media/a6f55dcc81cdcaa8e14dba935f10d8597dfe774b/0_115_2933_1759/master/2933.jpg?width=480&quality=85&auto=format&fit=max&s=753c56ad2afe2ee162a6ba2ca36c2bf6″,"width":480},{"src":"https://i.guim.co.uk/img/media/a6f55dcc81cdcaa8e14dba935f10d8597dfe774b/0_115_2933_1759/master/2933.jpg?width=480&quality=45&auto=format&fit=max&dpr=2&s=1b1de86f582a9079e204bd1c09f9a05a","width":960}]}],"elementId":"85ae59b1-d366-4f36-b3d0-7ee391124988″}],"attributes":{"pinned":false,"keyEvent":true,"summary":false},"blockCreatedOn":1663175684000,"blockCreatedOnDisplay":"18.14 BST","blockLastUpdated":1663177739000,"blockLastUpdatedDisplay":"18.48 BST","blockFirstPublished":1663175706000,"blockFirstPublishedDisplay":"18.15 BST","blockFirstPublishedDisplayNoTimezone":"18.15″,"title":"GOAL! Shakhtar 1-1 Celtic (Mudryk 29)","contributors":[],"primaryDateLine":"Wed 14 Sep 2022 19.45 BST","secondaryDateLine":"First published on Wed 14 Sep 2022 16.38 BST"},{"id":"632207638f082f706b3d9097″,"elements":[{"_type":"model.dotcomrendering.pageElements.TextBlockElement","html":"

It's been coming! The ball is floated out to the left and Haksabanovic plays in Hatate. He drives towards goal, slips the ball past the goalkeeper and it nicks off defender Bondarenko and into the net. Kyogo could have tapped it in to make sure but, perhaps wisely, let it run over the line to avoid any possible offside flag.

","elementId":"c0387cdd-44b5-4c57-a9b6-abc5309d122a"},{"_type":"model.dotcomrendering.pageElements.ImageBlockElement","media":{"allImages":[{"index":0,"fields":{"height":"2172″,"width":"3623″},"mediaType":"Image","mimeType":"image/jpeg","url":"https://media.guim.co.uk/d614005d993bfd8b9cd07df986ef67556c79a2aa/314_554_3623_2172/3623.jpg"},{"index":1,"fields":{"isMaster":"true","height":"2172″,"width":"3623″},"mediaType":"Image","mimeType":"image/jpeg","url":"https://media.guim.co.uk/d614005d993bfd8b9cd07df986ef67556c79a2aa/314_554_3623_2172/master/3623.jpg"},{"index":2,"fields":{"height":"1200″,"width":"2000″},"mediaType":"Image","mimeType":"image/jpeg","url":"https://media.guim.co.uk/d614005d993bfd8b9cd07df986ef67556c79a2aa/314_554_3623_2172/2000.jpg"},{"index":3,"fields":{"height":"600″,"width":"1000″},"mediaType":"Image","mimeType":"image/jpeg","url":"https://media.guim.co.uk/d614005d993bfd8b9cd07df986ef67556c79a2aa/314_554_3623_2172/1000.jpg"},{"index":4,"fields":{"height":"300″,"width":"500″},"mediaType":"Image","mimeType":"image/jpeg","url":"https://media.guim.co.uk/d614005d993bfd8b9cd07df986ef67556c79a2aa/314_554_3623_2172/500.jpg"},{"index":5,"fields":{"height":"84″,"width":"140″},"mediaType":"Image","mimeType":"image/jpeg","url":"https://media.guim.co.uk/d614005d993bfd8b9cd07df986ef67556c79a2aa/314_554_3623_2172/140.jpg"}]},"data":{"alt":"Celtic have the lead courtesy of a deflection off of Artem Bondarenko from Reo Hatate's shot.","caption":"Celtic have the lead courtesy of a deflection off of Artem Bondarenko from Reo Hatate's shot.","credit":"Photograph: Paul Currie/Shutterstock"},"displayCredit":true,"role":"inline","imageSources":[{"weighting":"inline","srcSet":[{"src":"https://i.guim.co.uk/img/media/d614005d993bfd8b9cd07df986ef67556c79a2aa/314_554_3623_2172/master/3623.jpg?width=620&quality=85&auto=format&fit=max&s=77974aa46a8dc8ae78c35778b72cb11b","width":620},{"src":"https://i.guim.co.uk/img/media/d614005d993bfd8b9cd07df986ef67556c79a2aa/314_554_3623_2172/master/3623.jpg?width=620&quality=45&auto=format&fit=max&dpr=2&s=8cf4a1df999ebcaeca013f54f559f473″,"width":1240},{"src":"https://i.guim.co.uk/img/media/d614005d993bfd8b9cd07df986ef67556c79a2aa/314_554_3623_2172/master/3623.jpg?width=605&quality=85&auto=format&fit=max&s=29b1267691a9b1465a58c134b57c65aa","width":605},{"src":"https://i.guim.co.uk/img/media/d614005d993bfd8b9cd07df986ef67556c79a2aa/314_554_3623_2172/master/3623.jpg?width=605&quality=45&auto=format&fit=max&dpr=2&s=d46cfe9acf4ee03d05531f9b502b1bcc","width":1210},{"src":"https://i.guim.co.uk/img/media/d614005d993bfd8b9cd07df986ef67556c79a2aa/314_554_3623_2172/master/3623.jpg?width=445&quality=85&auto=format&fit=max&s=8d999632a21315e94a3cb0f09540bb88″,"width":445},{"src":"https://i.guim.co.uk/img/media/d614005d993bfd8b9cd07df986ef67556c79a2aa/314_554_3623_2172/master/3623.jpg?width=445&quality=45&auto=format&fit=max&dpr=2&s=f554d1667d5dc2189675880894b75083″,"width":890}]},{"weighting":"thumbnail","srcSet":[{"src":"https://i.guim.co.uk/img/media/d614005d993bfd8b9cd07df986ef67556c79a2aa/314_554_3623_2172/master/3623.jpg?width=140&quality=85&auto=format&fit=max&s=546e1db8e108023f264c5d853747cd88″,"width":140},{"src":"https://i.guim.co.uk/img/media/d614005d993bfd8b9cd07df986ef67556c79a2aa/314_554_3623_2172/master/3623.jpg?width=140&quality=45&auto=format&fit=max&dpr=2&s=636f9e35e4099c18de42011afb6f2e56″,"width":280},{"src":"https://i.guim.co.uk/img/media/d614005d993bfd8b9cd07df986ef67556c79a2aa/314_554_3623_2172/master/3623.jpg?width=120&quality=85&auto=format&fit=max&s=a3d7db44350f532711823ebc5418b215″,"width":120},{"src":"https://i.guim.co.uk/img/media/d614005d993bfd8b9cd07df986ef67556c79a2aa/314_554_3623_2172/master/3623.jpg?width=120&quality=45&auto=format&fit=max&dpr=2&s=fd5def9d241a3e4daba3945b718ce0d0″,"width":240}]},{"weighting":"supporting","srcSet":[{"src":"https://i.guim.co.uk/img/media/d614005d993bfd8b9cd07df986ef67556c79a2aa/314_554_3623_2172/master/3623.jpg?width=380&quality=85&auto=format&fit=max&s=2f847266c7abd72a0cd02515d8ea92ef","width":380},{"src":"https://i.guim.co.uk/img/media/d614005d993bfd8b9cd07df986ef67556c79a2aa/314_554_3623_2172/master/3623.jpg?width=380&quality=45&auto=format&fit=max&dpr=2&s=ddbc6a7331c9231fd0c74b4bb339895e","width":760},{"src":"https://i.guim.co.uk/img/media/d614005d993bfd8b9cd07df986ef67556c79a2aa/314_554_3623_2172/master/3623.jpg?width=300&quality=85&auto=format&fit=max&s=c2d51d572c50d376c961287eed47bbc3″,"width":300},{"src":"https://i.guim.co.uk/img/media/d614005d993bfd8b9cd07df986ef67556c79a2aa/314_554_3623_2172/master/3623.jpg?width=300&quality=45&auto=format&fit=max&dpr=2&s=f5d7456e040a5b89e3bab80a4f2011d0″,"width":600},{"src":"https://i.guim.co.uk/img/media/d614005d993bfd8b9cd07df986ef67556c79a2aa/314_554_3623_2172/master/3623.jpg?width=620&quality=85&auto=format&fit=max&s=77974aa46a8dc8ae78c35778b72cb11b","width":620},{"src":"https://i.guim.co.uk/img/media/d614005d993bfd8b9cd07df986ef67556c79a2aa/314_554_3623_2172/master/3623.jpg?width=620&quality=45&auto=format&fit=max&dpr=2&s=8cf4a1df999ebcaeca013f54f559f473″,"width":1240},{"src":"https://i.guim.co.uk/img/media/d614005d993bfd8b9cd07df986ef67556c79a2aa/314_554_3623_2172/master/3623.jpg?width=605&quality=85&auto=format&fit=max&s=29b1267691a9b1465a58c134b57c65aa","width":605},{"src":"https://i.guim.co.uk/img/media/d614005d993bfd8b9cd07df986ef67556c79a2aa/314_554_3623_2172/master/3623.jpg?width=605&quality=45&auto=format&fit=max&dpr=2&s=d46cfe9acf4ee03d05531f9b502b1bcc","width":1210},{"src":"https://i.guim.co.uk/img/media/d614005d993bfd8b9cd07df986ef67556c79a2aa/314_554_3623_2172/master/3623.jpg?width=445&quality=85&auto=format&fit=max&s=8d999632a21315e94a3cb0f09540bb88″,"width":445},{"src":"https://i.guim.co.uk/img/media/d614005d993bfd8b9cd07df986ef67556c79a2aa/314_554_3623_2172/master/3623.jpg?width=445&quality=45&auto=format&fit=max&dpr=2&s=f554d1667d5dc2189675880894b75083″,"width":890}]},{"weighting":"showcase","srcSet":[{"src":"https://i.guim.co.uk/img/media/d614005d993bfd8b9cd07df986ef67556c79a2aa/314_554_3623_2172/master/3623.jpg?width=860&quality=85&auto=format&fit=max&s=572a28309779c9567910bc2a969f663d","width":860},{"src":"https://i.guim.co.uk/img/media/d614005d993bfd8b9cd07df986ef67556c79a2aa/314_554_3623_2172/master/3623.jpg?width=860&quality=45&auto=format&fit=max&dpr=2&s=a1d1fcbd9eadf5e0a7c4d04feb453f8e","width":1720},{"src":"https://i.guim.co.uk/img/media/d614005d993bfd8b9cd07df986ef67556c79a2aa/314_554_3623_2172/master/3623.jpg?width=780&quality=85&auto=format&fit=max&s=43d3723e749f372c324da486fce8682f","width":780},{"src":"https://i.guim.co.uk/img/media/d614005d993bfd8b9cd07df986ef67556c79a2aa/314_554_3623_2172/master/3623.jpg?width=780&quality=45&auto=format&fit=max&dpr=2&s=9ae5ba09ef4549ff832f867fcedbc2f1″,"width":1560},{"src":"https://i.guim.co.uk/img/media/d614005d993bfd8b9cd07df986ef67556c79a2aa/314_554_3623_2172/master/3623.jpg?width=620&quality=85&auto=format&fit=max&s=77974aa46a8dc8ae78c35778b72cb11b","width":620},{"src":"https://i.guim.co.uk/img/media/d614005d993bfd8b9cd07df986ef67556c79a2aa/314_554_3623_2172/master/3623.jpg?width=620&quality=45&auto=format&fit=max&dpr=2&s=8cf4a1df999ebcaeca013f54f559f473″,"width":1240},{"src":"https://i.guim.co.uk/img/media/d614005d993bfd8b9cd07df986ef67556c79a2aa/314_554_3623_2172/master/3623.jpg?width=605&quality=85&auto=format&fit=max&s=29b1267691a9b1465a58c134b57c65aa","width":605},{"src":"https://i.guim.co.uk/img/media/d614005d993bfd8b9cd07df986ef67556c79a2aa/314_554_3623_2172/master/3623.jpg?width=605&quality=45&auto=format&fit=max&dpr=2&s=d46cfe9acf4ee03d05531f9b502b1bcc","width":1210},{"src":"https://i.guim.co.uk/img/media/d614005d993bfd8b9cd07df986ef67556c79a2aa/314_554_3623_2172/master/3623.jpg?width=445&quality=85&auto=format&fit=max&s=8d999632a21315e94a3cb0f09540bb88″,"width":445},{"src":"https://i.guim.co.uk/img/media/d614005d993bfd8b9cd07df986ef67556c79a2aa/314_554_3623_2172/master/3623.jpg?width=445&quality=45&auto=format&fit=max&dpr=2&s=f554d1667d5dc2189675880894b75083″,"width":890}]},{"weighting":"halfwidth","srcSet":[{"src":"https://i.guim.co.uk/img/media/d614005d993bfd8b9cd07df986ef67556c79a2aa/314_554_3623_2172/master/3623.jpg?width=620&quality=85&auto=format&fit=max&s=77974aa46a8dc8ae78c35778b72cb11b","width":620},{"src":"https://i.guim.co.uk/img/media/d614005d993bfd8b9cd07df986ef67556c79a2aa/314_554_3623_2172/master/3623.jpg?width=620&quality=45&auto=format&fit=max&dpr=2&s=8cf4a1df999ebcaeca013f54f559f473″,"width":1240},{"src":"https://i.guim.co.uk/img/media/d614005d993bfd8b9cd07df986ef67556c79a2aa/314_554_3623_2172/master/3623.jpg?width=605&quality=85&auto=format&fit=max&s=29b1267691a9b1465a58c134b57c65aa","width":605},{"src":"https://i.guim.co.uk/img/media/d614005d993bfd8b9cd07df986ef67556c79a2aa/314_554_3623_2172/master/3623.jpg?width=605&quality=45&auto=format&fit=max&dpr=2&s=d46cfe9acf4ee03d05531f9b502b1bcc","width":1210},{"src":"https://i.guim.co.uk/img/media/d614005d993bfd8b9cd07df986ef67556c79a2aa/314_554_3623_2172/master/3623.jpg?width=445&quality=85&auto=format&fit=max&s=8d999632a21315e94a3cb0f09540bb88″,"width":445},{"src":"https://i.guim.co.uk/img/media/d614005d993bfd8b9cd07df986ef67556c79a2aa/314_554_3623_2172/master/3623.jpg?width=445&quality=45&auto=format&fit=max&dpr=2&s=f554d1667d5dc2189675880894b75083″,"width":890}]},{"weighting":"immersive","srcSet":[{"src":"https://i.guim.co.uk/img/media/d614005d993bfd8b9cd07df986ef67556c79a2aa/314_554_3623_2172/master/3623.jpg?width=1900&quality=85&auto=format&fit=max&s=95bcd1a87c52466fc220974426569a22″,"width":1900},{"src":"https://i.guim.co.uk/img/media/d614005d993bfd8b9cd07df986ef67556c79a2aa/314_554_3623_2172/master/3623.jpg?width=1900&quality=45&auto=format&fit=max&dpr=2&s=70ab36bc702c575024bd9edfd9bebeb8″,"width":3800},{"src":"https://i.guim.co.uk/img/media/d614005d993bfd8b9cd07df986ef67556c79a2aa/314_554_3623_2172/master/3623.jpg?width=1300&quality=85&auto=format&fit=max&s=9ceceaa4d723019b393db2c152884b2a","width":1300},{"src":"https://i.guim.co.uk/img/media/d614005d993bfd8b9cd07df986ef67556c79a2aa/314_554_3623_2172/master/3623.jpg?width=1300&quality=45&auto=format&fit=max&dpr=2&s=1d849b36b6f4d4e402d4aec3c76eddae","width":2600},{"src":"https://i.guim.co.uk/img/media/d614005d993bfd8b9cd07df986ef67556c79a2aa/314_554_3623_2172/master/3623.jpg?width=1140&quality=85&auto=format&fit=max&s=9edbb0787964e41f6f2f0c5eb9ad3407″,"width":1140},{"src":"https://i.guim.co.uk/img/media/d614005d993bfd8b9cd07df986ef67556c79a2aa/314_554_3623_2172/master/3623.jpg?width=1140&quality=45&auto=format&fit=max&dpr=2&s=7073edbaf46ef8c1e569aaf684452e37″,"width":2280},{"src":"https://i.guim.co.uk/img/media/d614005d993bfd8b9cd07df986ef67556c79a2aa/314_554_3623_2172/master/3623.jpg?width=980&quality=85&auto=format&fit=max&s=50c1a25f49ece46617c74a68a0d8e558″,"width":980},{"src":"https://i.guim.co.uk/img/media/d614005d993bfd8b9cd07df986ef67556c79a2aa/314_554_3623_2172/master/3623.jpg?width=980&quality=45&auto=format&fit=max&dpr=2&s=c5f458a8dd293f556d212bb29309aef9″,"width":1960},{"src":"https://i.guim.co.uk/img/media/d614005d993bfd8b9cd07df986ef67556c79a2aa/314_554_3623_2172/master/3623.jpg?width=740&quality=85&auto=format&fit=max&s=504584451107b76f027654fab87c0ff8″,"width":740},{"src":"https://i.guim.co.uk/img/media/d614005d993bfd8b9cd07df986ef67556c79a2aa/314_554_3623_2172/master/3623.jpg?width=740&quality=45&auto=format&fit=max&dpr=2&s=a4c67279f86b09707b004df821b430bc","width":1480},{"src":"https://i.guim.co.uk/img/media/d614005d993bfd8b9cd07df986ef67556c79a2aa/314_554_3623_2172/master/3623.jpg?width=660&quality=85&auto=format&fit=max&s=b5862465ebbdcd00e3d815e8f6a67af5″,"width":660},{"src":"https://i.guim.co.uk/img/media/d614005d993bfd8b9cd07df986ef67556c79a2aa/314_554_3623_2172/master/3623.jpg?width=660&quality=45&auto=format&fit=max&dpr=2&s=e2e6cd4e375b4afd82d2eef5e3b1d790″,"width":1320},{"src":"https://i.guim.co.uk/img/media/d614005d993bfd8b9cd07df986ef67556c79a2aa/314_554_3623_2172/master/3623.jpg?width=480&quality=85&auto=format&fit=max&s=862f9177d07ce7794b6b47bd47cc4fd9″,"width":480},{"src":"https://i.guim.co.uk/img/media/d614005d993bfd8b9cd07df986ef67556c79a2aa/314_554_3623_2172/master/3623.jpg?width=480&quality=45&auto=format&fit=max&dpr=2&s=33a62e91643dd9dbfd202fe73d60e8ad","width":960}]}],"elementId":"b67d97cf-cc39-4432-bc36-49bfd1bf7000″},{"_type":"model.dotcomrendering.pageElements.ImageBlockElement","media":{"allImages":[{"index":0,"fields":{"height":"4100″,"width":"6831″},"mediaType":"Image","mimeType":"image/jpeg","url":"https://media.guim.co.uk/24f375d17c3e20367a2d8ad50ab8b346612ceae4/0_0_6831_4100/6831.jpg"},{"index":1,"fields":{"isMaster":"true","height":"4100″,"width":"6831″},"mediaType":"Image","mimeType":"image/jpeg","url":"https://media.guim.co.uk/24f375d17c3e20367a2d8ad50ab8b346612ceae4/0_0_6831_4100/master/6831.jpg"},{"index":2,"fields":{"height":"1200″,"width":"2000″},"mediaType":"Image","mimeType":"image/jpeg","url":"https://media.guim.co.uk/24f375d17c3e20367a2d8ad50ab8b346612ceae4/0_0_6831_4100/2000.jpg"},{"index":3,"fields":{"height":"600″,"width":"1000″},"mediaType":"Image","mimeType":"image/jpeg","url":"https://media.guim.co.uk/24f375d17c3e20367a2d8ad50ab8b346612ceae4/0_0_6831_4100/1000.jpg"},{"index":4,"fields":{"height":"300″,"width":"500″},"mediaType":"Image","mimeType":"image/jpeg","url":"https://media.guim.co.uk/24f375d17c3e20367a2d8ad50ab8b346612ceae4/0_0_6831_4100/500.jpg"},{"index":5,"fields":{"height":"84″,"width":"140″},"mediaType":"Image","mimeType":"image/jpeg","url":"https://media.guim.co.uk/24f375d17c3e20367a2d8ad50ab8b346612ceae4/0_0_6831_4100/140.jpg"}]},"data":{"alt":"Celtics players celebrate the opening goal of their team against Shakhtar Donetsk.","caption":"Celtics players celebrate going ahead.","credit":"Photograph: Michal Dyjuk/AP"},"displayCredit":true,"role":"inline","imageSources":[{"weighting":"inline","srcSet":[{"src":"https://i.guim.co.uk/img/media/24f375d17c3e20367a2d8ad50ab8b346612ceae4/0_0_6831_4100/master/6831.jpg?width=620&quality=85&auto=format&fit=max&s=7226d96b5020b9aac6e688f250042402″,"width":620},{"src":"https://i.guim.co.uk/img/media/24f375d17c3e20367a2d8ad50ab8b346612ceae4/0_0_6831_4100/master/6831.jpg?width=620&quality=45&auto=format&fit=max&dpr=2&s=97cfe08e3b7ad5ae597df97030d552b9″,"width":1240},{"src":"https://i.guim.co.uk/img/media/24f375d17c3e20367a2d8ad50ab8b346612ceae4/0_0_6831_4100/master/6831.jpg?width=605&quality=85&auto=format&fit=max&s=c6c2e7d70381d82741486a6bb99e8100″,"width":605},{"src":"https://i.guim.co.uk/img/media/24f375d17c3e20367a2d8ad50ab8b346612ceae4/0_0_6831_4100/master/6831.jpg?width=605&quality=45&auto=format&fit=max&dpr=2&s=ecfe5b7489dd0b2545acfed7de1085a3″,"width":1210},{"src":"https://i.guim.co.uk/img/media/24f375d17c3e20367a2d8ad50ab8b346612ceae4/0_0_6831_4100/master/6831.jpg?width=445&quality=85&auto=format&fit=max&s=c61b75d7c4498cdf638806826f37fd26″,"width":445},{"src":"https://i.guim.co.uk/img/media/24f375d17c3e20367a2d8ad50ab8b346612ceae4/0_0_6831_4100/master/6831.jpg?width=445&quality=45&auto=format&fit=max&dpr=2&s=673ec5acc140aa3ba9d80281d70d97be","width":890}]},{"weighting":"thumbnail","srcSet":[{"src":"https://i.guim.co.uk/img/media/24f375d17c3e20367a2d8ad50ab8b346612ceae4/0_0_6831_4100/master/6831.jpg?width=140&quality=85&auto=format&fit=max&s=1d671a5e62ad193a2597b7b523c7db7e","width":140},{"src":"https://i.guim.co.uk/img/media/24f375d17c3e20367a2d8ad50ab8b346612ceae4/0_0_6831_4100/master/6831.jpg?width=140&quality=45&auto=format&fit=max&dpr=2&s=6fa698a471b9ac4134dbe903c93467fe","width":280},{"src":"https://i.guim.co.uk/img/media/24f375d17c3e20367a2d8ad50ab8b346612ceae4/0_0_6831_4100/master/6831.jpg?width=120&quality=85&auto=format&fit=max&s=1279d71a78bb96dbdf96de390287e78c","width":120},{"src":"https://i.guim.co.uk/img/media/24f375d17c3e20367a2d8ad50ab8b346612ceae4/0_0_6831_4100/master/6831.jpg?width=120&quality=45&auto=format&fit=max&dpr=2&s=e3b147aa892bce8ac64ac246ebb72d18″,"width":240}]},{"weighting":"supporting","srcSet":[{"src":"https://i.guim.co.uk/img/media/24f375d17c3e20367a2d8ad50ab8b346612ceae4/0_0_6831_4100/master/6831.jpg?width=380&quality=85&auto=format&fit=max&s=63d74c264f7b9af0b6c2f762a135c3e0″,"width":380},{"src":"https://i.guim.co.uk/img/media/24f375d17c3e20367a2d8ad50ab8b346612ceae4/0_0_6831_4100/master/6831.jpg?width=380&quality=45&auto=format&fit=max&dpr=2&s=7429f8a6c560360303c1623470a4f429″,"width":760},{"src":"https://i.guim.co.uk/img/media/24f375d17c3e20367a2d8ad50ab8b346612ceae4/0_0_6831_4100/master/6831.jpg?width=300&quality=85&auto=format&fit=max&s=945e45e556ba4680bf972348cffa216f","width":300},{"src":"https://i.guim.co.uk/img/media/24f375d17c3e20367a2d8ad50ab8b346612ceae4/0_0_6831_4100/master/6831.jpg?width=300&quality=45&auto=format&fit=max&dpr=2&s=ab3f388593fec13672f78dae7fcf10ad","width":600},{"src":"https://i.guim.co.uk/img/media/24f375d17c3e20367a2d8ad50ab8b346612ceae4/0_0_6831_4100/master/6831.jpg?width=620&quality=85&auto=format&fit=max&s=7226d96b5020b9aac6e688f250042402″,"width":620},{"src":"https://i.guim.co.uk/img/media/24f375d17c3e20367a2d8ad50ab8b346612ceae4/0_0_6831_4100/master/6831.jpg?width=620&quality=45&auto=format&fit=max&dpr=2&s=97cfe08e3b7ad5ae597df97030d552b9″,"width":1240},{"src":"https://i.guim.co.uk/img/media/24f375d17c3e20367a2d8ad50ab8b346612ceae4/0_0_6831_4100/master/6831.jpg?width=605&quality=85&auto=format&fit=max&s=c6c2e7d70381d82741486a6bb99e8100″,"width":605},{"src":"https://i.guim.co.uk/img/media/24f375d17c3e20367a2d8ad50ab8b346612ceae4/0_0_6831_4100/master/6831.jpg?width=605&quality=45&auto=format&fit=max&dpr=2&s=ecfe5b7489dd0b2545acfed7de1085a3″,"width":1210},{"src":"https://i.guim.co.uk/img/media/24f375d17c3e20367a2d8ad50ab8b346612ceae4/0_0_6831_4100/master/6831.jpg?width=445&quality=85&auto=format&fit=max&s=c61b75d7c4498cdf638806826f37fd26″,"width":445},{"src":"https://i.guim.co.uk/img/media/24f375d17c3e20367a2d8ad50ab8b346612ceae4/0_0_6831_4100/master/6831.jpg?width=445&quality=45&auto=format&fit=max&dpr=2&s=673ec5acc140aa3ba9d80281d70d97be","width":890}]},{"weighting":"showcase","srcSet":[{"src":"https://i.guim.co.uk/img/media/24f375d17c3e20367a2d8ad50ab8b346612ceae4/0_0_6831_4100/master/6831.jpg?width=860&quality=85&auto=format&fit=max&s=b5d6b21cabac1dd9fa971ac3e196c269″,"width":860},{"src":"https://i.guim.co.uk/img/media/24f375d17c3e20367a2d8ad50ab8b346612ceae4/0_0_6831_4100/master/6831.jpg?width=860&quality=45&auto=format&fit=max&dpr=2&s=de5cbfae16cc13463ab26b3a94822472″,"width":1720},{"src":"https://i.guim.co.uk/img/media/24f375d17c3e20367a2d8ad50ab8b346612ceae4/0_0_6831_4100/master/6831.jpg?width=780&quality=85&auto=format&fit=max&s=bd682ff4bacb0913a7c5f087aa64f19b","width":780},{"src":"https://i.guim.co.uk/img/media/24f375d17c3e20367a2d8ad50ab8b346612ceae4/0_0_6831_4100/master/6831.jpg?width=780&quality=45&auto=format&fit=max&dpr=2&s=84000a7b555cdc6ee78c57a85e6d9106″,"width":1560},{"src":"https://i.guim.co.uk/img/media/24f375d17c3e20367a2d8ad50ab8b346612ceae4/0_0_6831_4100/master/6831.jpg?width=620&quality=85&auto=format&fit=max&s=7226d96b5020b9aac6e688f250042402″,"width":620},{"src":"https://i.guim.co.uk/img/media/24f375d17c3e20367a2d8ad50ab8b346612ceae4/0_0_6831_4100/master/6831.jpg?width=620&quality=45&auto=format&fit=max&dpr=2&s=97cfe08e3b7ad5ae597df97030d552b9″,"width":1240},{"src":"https://i.guim.co.uk/img/media/24f375d17c3e20367a2d8ad50ab8b346612ceae4/0_0_6831_4100/master/6831.jpg?width=605&quality=85&auto=format&fit=max&s=c6c2e7d70381d82741486a6bb99e8100″,"width":605},{"src":"https://i.guim.co.uk/img/media/24f375d17c3e20367a2d8ad50ab8b346612ceae4/0_0_6831_4100/master/6831.jpg?width=605&quality=45&auto=format&fit=max&dpr=2&s=ecfe5b7489dd0b2545acfed7de1085a3″,"width":1210},{"src":"https://i.guim.co.uk/img/media/24f375d17c3e20367a2d8ad50ab8b346612ceae4/0_0_6831_4100/master/6831.jpg?width=445&quality=85&auto=format&fit=max&s=c61b75d7c4498cdf638806826f37fd26″,"width":445},{"src":"https://i.guim.co.uk/img/media/24f375d17c3e20367a2d8ad50ab8b346612ceae4/0_0_6831_4100/master/6831.jpg?width=445&quality=45&auto=format&fit=max&dpr=2&s=673ec5acc140aa3ba9d80281d70d97be","width":890}]},{"weighting":"halfwidth","srcSet":[{"src":"https://i.guim.co.uk/img/media/24f375d17c3e20367a2d8ad50ab8b346612ceae4/0_0_6831_4100/master/6831.jpg?width=620&quality=85&auto=format&fit=max&s=7226d96b5020b9aac6e688f250042402″,"width":620},{"src":"https://i.guim.co.uk/img/media/24f375d17c3e20367a2d8ad50ab8b346612ceae4/0_0_6831_4100/master/6831.jpg?width=620&quality=45&auto=format&fit=max&dpr=2&s=97cfe08e3b7ad5ae597df97030d552b9″,"width":1240},{"src":"https://i.guim.co.uk/img/media/24f375d17c3e20367a2d8ad50ab8b346612ceae4/0_0_6831_4100/master/6831.jpg?width=605&quality=85&auto=format&fit=max&s=c6c2e7d70381d82741486a6bb99e8100″,"width":605},{"src":"https://i.guim.co.uk/img/media/24f375d17c3e20367a2d8ad50ab8b346612ceae4/0_0_6831_4100/master/6831.jpg?width=605&quality=45&auto=format&fit=max&dpr=2&s=ecfe5b7489dd0b2545acfed7de1085a3″,"width":1210},{"src":"https://i.guim.co.uk/img/media/24f375d17c3e20367a2d8ad50ab8b346612ceae4/0_0_6831_4100/master/6831.jpg?width=445&quality=85&auto=format&fit=max&s=c61b75d7c4498cdf638806826f37fd26″,"width":445},{"src":"https://i.guim.co.uk/img/media/24f375d17c3e20367a2d8ad50ab8b346612ceae4/0_0_6831_4100/master/6831.jpg?width=445&quality=45&auto=format&fit=max&dpr=2&s=673ec5acc140aa3ba9d80281d70d97be","width":890}]},{"weighting":"immersive","srcSet":[{"src":"https://i.guim.co.uk/img/media/24f375d17c3e20367a2d8ad50ab8b346612ceae4/0_0_6831_4100/master/6831.jpg?width=1900&quality=85&auto=format&fit=max&s=a1d69631bf6581f6943ccfcc1c20fa28″,"width":1900},{"src":"https://i.guim.co.uk/img/media/24f375d17c3e20367a2d8ad50ab8b346612ceae4/0_0_6831_4100/master/6831.jpg?width=1900&quality=45&auto=format&fit=max&dpr=2&s=73a89917cafcf12583ebdae20f327e49″,"width":3800},{"src":"https://i.guim.co.uk/img/media/24f375d17c3e20367a2d8ad50ab8b346612ceae4/0_0_6831_4100/master/6831.jpg?width=1300&quality=85&auto=format&fit=max&s=f5c4d1a0bb49b4f91bb1f7aa83663d21″,"width":1300},{"src":"https://i.guim.co.uk/img/media/24f375d17c3e20367a2d8ad50ab8b346612ceae4/0_0_6831_4100/master/6831.jpg?width=1300&quality=45&auto=format&fit=max&dpr=2&s=453dc9e94540ef89c9fcc18931163fbd","width":2600},{"src":"https://i.guim.co.uk/img/media/24f375d17c3e20367a2d8ad50ab8b346612ceae4/0_0_6831_4100/master/6831.jpg?width=1140&quality=85&auto=format&fit=max&s=49bd7858f97eca1ce3d9863f6d37df7d","width":1140},{"src":"https://i.guim.co.uk/img/media/24f375d17c3e20367a2d8ad50ab8b346612ceae4/0_0_6831_4100/master/6831.jpg?width=1140&quality=45&auto=format&fit=max&dpr=2&s=c09eadf8eed8e9af970369de7e8139c4″,"width":2280},{"src":"https://i.guim.co.uk/img/media/24f375d17c3e20367a2d8ad50ab8b346612ceae4/0_0_6831_4100/master/6831.jpg?width=980&quality=85&auto=format&fit=max&s=f0d82a7888a2e229842782190923ce34″,"width":980},{"src":"https://i.guim.co.uk/img/media/24f375d17c3e20367a2d8ad50ab8b346612ceae4/0_0_6831_4100/master/6831.jpg?width=980&quality=45&auto=format&fit=max&dpr=2&s=e536037e16888cebe595664747dd1776″,"width":1960},{"src":"https://i.guim.co.uk/img/media/24f375d17c3e20367a2d8ad50ab8b346612ceae4/0_0_6831_4100/master/6831.jpg?width=740&quality=85&auto=format&fit=max&s=d6047406d5870d18f0b1dca1709b259d","width":740},{"src":"https://i.guim.co.uk/img/media/24f375d17c3e20367a2d8ad50ab8b346612ceae4/0_0_6831_4100/master/6831.jpg?width=740&quality=45&auto=format&fit=max&dpr=2&s=1bcd388c0db33f3e8e22cc07a3fc9cd6″,"width":1480},{"src":"https://i.guim.co.uk/img/media/24f375d17c3e20367a2d8ad50ab8b346612ceae4/0_0_6831_4100/master/6831.jpg?width=660&quality=85&auto=format&fit=max&s=b206cf4065728f9b384f4563441f728a","width":660},{"src":"https://i.guim.co.uk/img/media/24f375d17c3e20367a2d8ad50ab8b346612ceae4/0_0_6831_4100/master/6831.jpg?width=660&quality=45&auto=format&fit=max&dpr=2&s=d40d932bc7f0702fe05b37757e30227a","width":1320},{"src":"https://i.guim.co.uk/img/media/24f375d17c3e20367a2d8ad50ab8b346612ceae4/0_0_6831_4100/master/6831.jpg?width=480&quality=85&auto=format&fit=max&s=e2c7d8615f97e04e7b2c5d7adad01240″,"width":480},{"src":"https://i.guim.co.uk/img/media/24f375d17c3e20367a2d8ad50ab8b346612ceae4/0_0_6831_4100/master/6831.jpg?width=480&quality=45&auto=format&fit=max&dpr=2&s=b0de57ca99c84ccdd7bf1427418da4d7″,"width":960}]}],"elementId":"ea249bf0-9ff1-459b-b8e3-45beacffe830″}],"attributes":{"pinned":false,"keyEvent":true,"summary":false},"blockCreatedOn":1663174499000,"blockCreatedOnDisplay":"17.54 BST","blockLastUpdated":1663179645000,"blockLastUpdatedDisplay":"19.20 BST","blockFirstPublished":1663174601000,"blockFirstPublishedDisplay":"17.56 BST","blockFirstPublishedDisplayNoTimezone":"17.56″,"title":"GOAL! Shakhtar 0-1 Celtic (o.g. Bondarenko 10)","contributors":[],"primaryDateLine":"Wed 14 Sep 2022 19.45 BST","secondaryDateLine":"First published on Wed 14 Sep 2022 16.38 BST"},{"id":"6321f57c8f08565ccb58e718″,"elements":[{"_type":"model.dotcomrendering.pageElements.TextBlockElement","html":"

Shakhtar: Trubin, Bondar, Stepanenko, Sudakov, Shved, Mudryk, Zubkov, Bondarenko, Matviyenko, Taylor, Konoplia
Subs: Shevchenko, Pyatov, Traore, Krytsov, Sikan, Mykhaylichenko, Kryskiv, Djurasek, Topalov, Ocheretko, Kozik, Petriak

","elementId":"47030933-a707-4d58-94dc-7a194189ee42″},{"_type":"model.dotcomrendering.pageElements.TextBlockElement","html":"

Celtic: Hart, Taylor, Jenz, Kyogo, Haksabanovic, Jota, Carter-Vickers, O'Riley, Hatate, McGregor, Juranovic
Subs: Bain, Siegrist, Giakoumakis, Abada, Mooy, Turnbull, Bernabei, Abildgaard, Maeda, Forrest, Ralston, Welsh

","elementId":"50d7fbaa-7bfa-4cd6-ab11-60a599364ffb"}],"attributes":{"pinned":false,"keyEvent":true,"summary":false},"blockCreatedOn":1663169916000,"blockCreatedOnDisplay":"16.38 BST","blockLastUpdated":1663170105000,"blockLastUpdatedDisplay":"16.41 BST","blockFirstPublished":1663170105000,"blockFirstPublishedDisplay":"16.41 BST","blockFirstPublishedDisplayNoTimezone":"16.41″,"title":"Team news","contributors":[],"primaryDateLine":"Wed 14 Sep 2022 19.45 BST","secondaryDateLine":"First published on Wed 14 Sep 2022 16.38 BST"},{"id":"6321d46f8f0815a81b239a86″,"elements":[{"_type":"model.dotcomrendering.pageElements.TextBlockElement","html":"

Celtic fans dared to dream in their Champions League opener at home to holders Real Madrid last week. At 0-0, skipper Callum McGregor smashed the inside of the Madrid post and there were other chances too.

","elementId":"10585610-30da-4fac-bbee-7d40b6243e5e"},{"_type":"model.dotcomrendering.pageElements.TextBlockElement","html":"

The eventual 3-0 scoreline was harsh but perhaps an important reminder of what they're up against at this level. Switching off for 10 or 15 minutes can prove fatal.

","elementId":"f95cd354-87ac-4b0a-95e4-50044ce6fb1a"},{"_type":"model.dotcomrendering.pageElements.TextBlockElement","html":"

After the cauldron of noise at Celtic Park, their second Group F outing comes in very different circumstances as they travel to Warsaw to face Shakhtar Donetsk. Due to the ongoing Russian military invasion, Shakhtar are playing their 'home' Champions League games in Poland.

","elementId":"5a8af1aa-6ac6-4bb0-857d-013109beec8d"},{"_type":"model.dotcomrendering.pageElements.TextBlockElement","html":"

Surprisingly, given the distress, disruption and loss of key players from their squad, Shakhtar began the group with a 4-1 away win at RB Leipzig. It flattered them but that result heaps extra pressure on Celtic. This is a game the Bhoys cannot really afford to lose if they're to head home with genuine hope of reaching the knockout phase.

","elementId":"c68d459e-941b-49e9-8ca7-dfd8b1e06876″},{"_type":"model.dotcomrendering.pageElements.TextBlockElement","html":"

Kick off at the Stadion Wojska Polskiego is 5.45pm BST.

","elementId":"b67846d6-c4f7-4e62-9161-8e89add681c0″}],"attributes":{"pinned":false,"keyEvent":true,"summary":false},"blockCreatedOn":1663169908000,"blockCreatedOnDisplay":"16.38 BST","blockLastUpdated":1663169808000,"blockLastUpdatedDisplay":"16.36 BST","blockFirstPublished":1663169908000,"blockFirstPublishedDisplay":"16.38 BST","blockFirstPublishedDisplayNoTimezone":"16.38″,"title":"Preamble","contributors":[],"primaryDateLine":"Wed 14 Sep 2022 19.45 BST","secondaryDateLine":"First published on Wed 14 Sep 2022 16.38 BST"}],"filterKeyEvents":false,"format":{"display":0,"theme":2,"design":10},"id":"key-events-carousel-mobile"}">

Important events
FINAL: Shakhtar 1-1 Celtic
It's all over and Celtic have to settle for a point. An away draw – even though this one was technically on neutral ground – is never a bad thing at this level, but the Bhoys will accept a missed opportunity. They had a number of good chances, especially in the last 10 minutes, but couldn't find the killer touch. It leaves them with a point after two games, but that won't look too bad if Madrid beat Leipzig later tonight.
90 minutes +5: Mudryk tries to get on the end of a floating ball in the box but has too much juice on him. At the other end, Giakoumakis goes up with a header at the goalkeeper. The ball falls into the gap with Trubin stuck, but there is a Shakhtar defender to sweep away. It's not going to be Celtic's night.
90 minutes +4: Shakhtar skipper Stepanenko limps off the line but is back in action. Job done. Just a minute to go.
90 minutes +3: Now we're in a bind. Shakhtar players are starting to feel it and are happy to run.
90 minutes +2: Apart from that flurry that their goal created and fired them into action for the next 10 minutes, Shakhtar were very much second best here. Celtic had their chances, including two in the closing minutes, but were unable to convert.
90 minutes: We will have five minutes of extra time. Still hoping for Celtic.
88 minutes: Postecoglou, looking stern in his black jumper, must be thinking he's the one who got away. Even more so when a stretching Maeda can't guide his effort on target when he's ready to play the hero from McGregor's cross. More anxiety for Celtic.
87 minutes: Abada replaces Jota. He has six goals this season so he is the right man to play if Celtic are to achieve this.
85 minutes: Huge opportunity for Celtic! Taylor picks out Giakoumakis in the box about 12 yards out. A great first touch from the striker, but his left-footed shot flies inches wide. Wow. He was so close to the winner.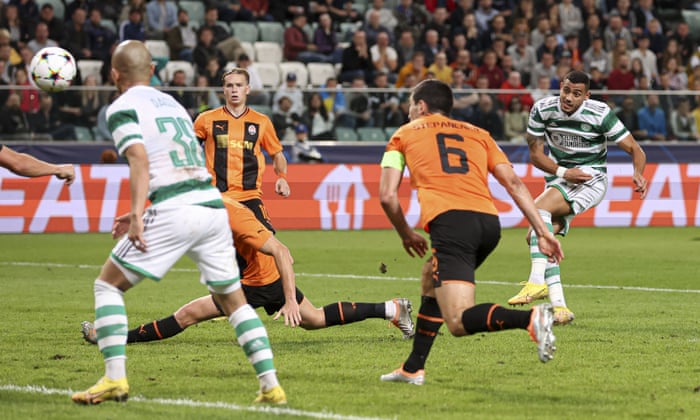 84 minutes: Jens is robbed on the halfway line but comes back to block Ocheretko's shot. Just as well. He got away with it.
82 minutes: Trubin needs to rush to the edge of his book and hack again as Celtic Press. Perhaps Shakhtar is feeling this a bit. Celtic finish the strongest.
80 minutes: In the last 10 minutes. Celtic push hard for a winner or get an away point? You'd think he'd be the first and they show their intent with a flowing move that ends with a sticky shot in the area by Maeda that's deflected off the head and back into the corner. None of that though.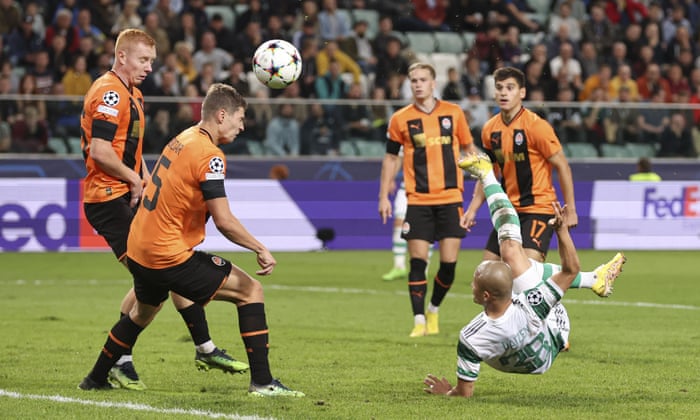 79 minutes: Danger for Celtic as Mudryk's free-kick down the left drifts to the back post, but Hart allows it to bounce back without an orange and black shirt close enough to poke home.
77 minutes: Sudakov was receiving treatment during this break and was on the sidelines. Next up is Oleg Ocheretko, who scored Shakhtar's 96th-minute winner in the domestic league at the weekend.
76 minutes: A break in the game as both sides get a drink and some coaching advice.
75 minutes: Jurasek replaces Botarenko as Shakhtar make another change.
74 minutes: Hartson, on commentary, tempts fate horribly by telling Shakhtar to "watch their feet".
72 minutes: Twinkly legs from Jota after Celtic won the ball high. He dances his way through the Shakhtar defense but is almost run out when he hits a tame shot. It's blocked back and Celtic are headed in a corner.
71 minutes: Almost confusion in the Celtic defense as two players go for the same ball in the box, but Carter-Vickers gets a decisive touch and Shakhtar are awarded a free-kick.
69 minutes: Turnbull makes an almost immediate impact as his right-footed strike from just outside the area is not far off the bar.
68 minutes: It's a triple Celtic switch. Hatate, Kyogo and O'Riley are away. Come on Turnbull, Giakoumakis and Mooy.
66 minutes: In my extensive research into this match, I've noted the goal times of Shakhtar's eight goals in all competitions this season. Six of those have come in the 74th minute or later. Attention Celtic!
Peter Oh produces a pun: "Joe Hart, Heung-min Son and John Hartson should go into business together. A podcast, a consulting firm, or maybe a restaurant or food truck. It would be called Hart, Son & Hartson.'
64 minutes: O'Reilly goes for goal with his left foot and the low shot is saved by Trubin. The ball is looped and the midfielder has the right peg this time, but it's wide. More activity on the Celtic bench now.
63 minutes: A double dragback from Mudryk is more for show than effect, but it shows how confident the No.10 is. Mark him, Celtic. Mark him!
62 minutes: Still Celtic on the front foot here until the dangerous Mudryk breaks free down the left. He cuts inside and the drive probably loses momentum.
61 minutes: Shakhtar make a double change and bring Petriak and Traore for Zubkov and Sved.
60 minutes: The second half pretty much mirrored the pattern of the first: Celtic in control and threatening to score and Shakhtar just not doing much.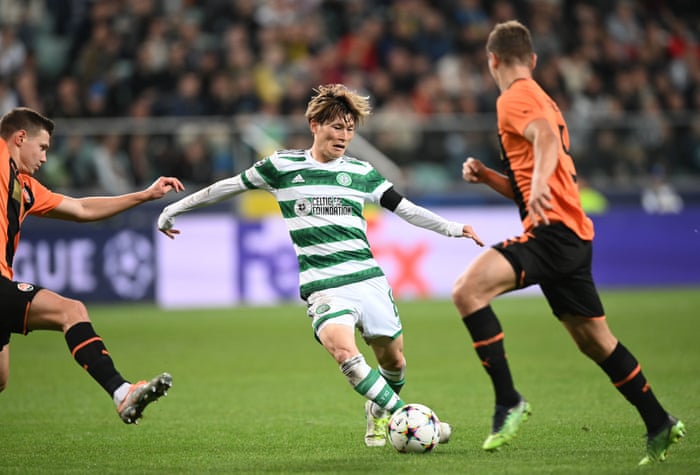 58 minutes: Taylor drives forward for Shakhtar, but gets into the move and the ball bounces into the air and back to Hart.
56 minutes: Fantastic run by Jota: stepover, cut inside, drift to the right and then a shot that is deflected for a corner. Jota looks very lively since the break. Celtic can't do anything from the corner.
55 minutes: Hartson passes the goal to Haate. Does this bypass UEFA's judgment?
53 minutes: I had to trust my instincts. UEFA says own goal after 10 minutes by Botarenko instead of Hetate after 11. I'll change it again!
52 minutes: A bad tackle by Mortiz Jenz earned him a yellow card. His first fight I believe.
51 minutes: Mudryk, who really looks the part, pings over for 1-2 on the edge of the box, but Celtic have numbers behind. Postecoglou's team will do well to keep the ball away from Shakhtar's dangerous No10.
49 minutes: A poor clearance from Hart leaves Taylor with a chase, but some nimble footwork allows him to keep the ball in and win a free-kick.
48 minutes: Jota is at the start of the second-half action as his right-footed curler from outside the box hits the chest of a Shakhtar defender as he is guided goalwards to test the keeper.
46 minutes: Quick start from Celtic again and within 30 seconds of the restart Trubin has to palm away a Jota shot from the left corner of the area. The rebound doesn't fall into Celtic's place, although could their forwards have been sharper? Wales goalkeeper John Hartson believes they could.
46 minutes: Celtic start the second half. They made a change at the break with Daizen Maeda coming on for Haksabanovic.
HALF TIME: Shakhtar 1-1 Celtic
A strange 45 minutes of football comes to an end. Celtic were completely dominant, deservedly went ahead and then Shakhtar suddenly woke up. The equalizer came out of the blue, but from that point the hosts threatened further goals and denied a second. Which way will this go? I have no idea to be honest!
44 minutes: Shakhtar threaten another counterattack, but this one thrives on nothing.
42 minutes: Better from Celtic as Jota's left-footed shot from outside the box was saved after a slight deflection.
40 minutes: Leipzig fans will watch and agree that Shakhtar are a bit of a strange team. They may look dull and ineffective, but then they suddenly come alive as Leipzig found out when they got their pants down in a 4-1 defeat. Celtic looked good for 2-0 or 3-0 before the break, but Shakhtar are now a bit unlucky not to be ahead.
37 minutes: Swede cuts in from the right and tries a left-footed shot into the bottom corner, but Hart misses. From the corner, Konoplya almost beats it but it's gone for another which goes uneventfully. Celtic must want half time now.
35 minutes: Mudryk leads this momentum swing as he again threatens to cause Celtic problems down the left. It's off this time, but the winger looks a huge danger.
33 minutes: Hart has to dive smartly to his left to stop a dangerous cross. This was the big upset from the home team. Out of nowhere, they have come to life and Celtic need to refocus.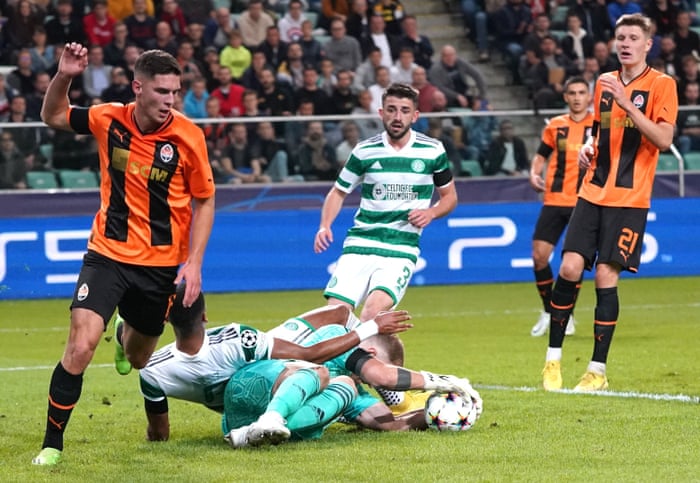 31 minutes: Massive clearance for Celtic as Shakhtar have the ball in the net again but it's disallowed. Mudryk pulls the ball back off the line and Shved whistles the ball past Hart and into the net. The celebrations begin… but to Celtic's relief the ball was gone before Mudrick could snap it back.
30 minutes: BT co-commentator John Hartson uses the term "sucker punch" a lot. And he's right.