King Charles III pledged to serve the country "with loyalty, respect and love" in an emotional speech in which he paid tribute to his mother, the Queen, saying: "May 'flights of angels sing you in your rest' .
Speaking with "feelings of deep sadness", he said: "Queen Elizabeth was a life well lived, a promise destined to be kept and I am deeply saddened by her passing. This promise of lifelong service I renew to all of you today."
In a speech reflecting on his transition from crown prince to king, he also acknowledged that his role must change.
He spoke about the "roles and duties of the monarchy" and the monarch's relationship with the Church of England, in which he said his own faith was rooted.
"I was raised to cherish a sense of duty to others and to hold with the utmost respect the precious traditions, freedoms and responsibilities of our unique history and system of parliamentary government," he said.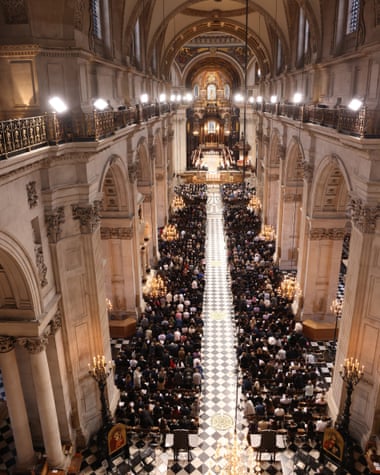 "As the Queen herself has done with such unwavering devotion, I solemnly pledge myself now, for as long as God allows me, to uphold constitutional principles at the heart of our nation."
He added: "My life will of course change as I take on my new responsibilities. It will no longer be possible for me to give so much of my time and energy to charities and causes that I care so deeply about. But I know that this important work will continue in the trusted hands of others."
To William, now inheriting the title of Duke of Cornwall from Charles, he added another. "Today, I am proud to have created him the Prince of Wales, Tywysog Cymruthe country whose title I have been so privileged to bear during both my life and duty.'
Kate now inherits William's mother's title of Princess of Wales. A source said the new Princess of Wales "appreciates the history associated with this role but will understandably want to look to the future as she forges her own path".
Charles said in his speech: "With Catherine by his side, our new Prince and Princess of Wales, I know, will continue to inspire and guide our national conversations, helping to bring the marginalized to the center where vital help can be given .
"I also want to express my love for Harry and Meghan as they continue to build their lives abroad," he said in the speech, which was pre-recorded at Buckingham Palace earlier on Friday.
It was when he paid tribute to his mother that he was most emotional. "Her devotion and dedication as a sovereign never wavered, in times of change and progress, in times of joy and celebration and in times of sorrow and loss," he said.
"I pay tribute to my mother's memory and honor her life of service. I know her death brings great sadness to so many of you and I share this sense of loss beyond measure with all of you."
He added: "On behalf of my entire family, I can only express my most sincere and heartfelt thanks for your condolences and support. They mean more to me than I can ever express.
"And to my beloved mom, as you embark on your last long journey to join my late dad, I just want to say this: thank you. Thank you for your love and devotion to our family and the family of nations that you have served so diligently over the years.
"May 'flights of Angels sing to thee in thy rest.'
The last quote is from Hamlet. The King recorded the address in the Blue Drawing Room at Buckingham Palace, where his mother recorded some of her Christmas messages. A pot of sweet peas mixed with rosemary was placed on his desk as a keepsake. The vase had three corgis on the base.
The first glimpse of a grieving Charles as King was as he left Birkhall, his private home at Balmoral, to travel to London. Dressed in mourning black, he and the new Queen Consort were seen being driven to Aberdeen Airport from the Scottish estate where they rushed to be at his mother's bedside on Thursday.
At Buckingham Palace, the royal standard was raised for the first time in his reign. Hundreds gathered outside gave three cheers and chanted "God Save the King" as he arrived in state in a Rolls-Royce and began shaking hands with countless well-wishers offering condolences. Along with Camilla, he watched as floral tributes were left outside the gates of Buckingham Palace. "I have respect for him. He walked all the way to see the people and back to see the flowers. It's what people wanted to see, which is great," said Joyce Curtis, 72, who visited Jersey. "He's got a job on his hands," he added.
Although automatically King on his mother's death, a moment he told a well-wisher outside the palace he feared, he will be formally proclaimed King Charles III at a historic Council of Accession on Saturday morning, swearing and signing a declaration and an oath in one ancient ceremony televised for the first time.
He made his first appearance with Prime Minister Liz Truss at Buckingham Palace on Friday afternoon.
It was a day of royal gun salutes. The deadly 96-round salute, one for each year of the Queen's life, was fired from Hyde Park, the Tower of London and other artillery stations across the UK. Several thousand people gathered in Hyde Park as 71 horses galloped into place for the 16-minute salute. They watched in such profound silence "you could hear a pin drop," said one.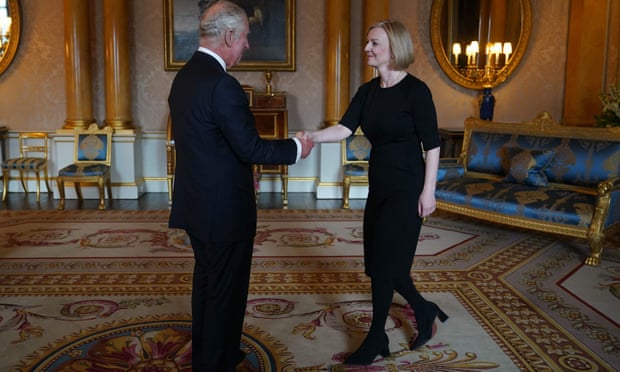 Bells rang in cities, towns and villages in cathedrals, parish churches and chapels. Books of condolence were opened at libraries, churches and town halls and online at the royal family's website.
Flowers were piled so high that designated flower areas were created near royal residences for the bouquets, personal notes and candles placed by well-wishers.
"Dedication" and "duty" were the watchwords as tributes poured in from around the world. Among them, a letter from the Dalai Lama to the King, telling him: "Your mother lived a meaningful life with dignity, grace, a strong sense of service and a warm heart, qualities we should all greatly value." The Corgi community had "lost part of our world", lamented Kay Hogg, secretary of the Scottish section of the Welsh Corgi League.
Liz Truss, whose official appointment this week was one of the Queen's last public constitutional duties, led the tributes to a packed and emotionally charged House of Commons, its benches populated by black-clad MPs .
It was "the rock on which modern Britain was built," Truss said. Heralding "our new Carolingian age" – a term first used in the reign of Charles I – she said of the King: "Even when he mourns, his sense of duty is clear." Her predecessor, Boris Johnson, speaking from the back, described the late monarch as "the Great Elizabeth". At their last meeting, after he resigned, he said, she was "bright and knowledgeable and as fascinated by politics" as she had ever been, "when he kicked her out at 14u prime minister and welcomed the 15th".
With the family's royal mourning period announced to be extended seven days after the Queen's funeral, the Duke of Cornwall and Cambridge, as William is now known, left early afternoon for Windsor to prepare for the accession council.
An earlier departure from Balmoral was the Duke of Sussex, who had arrived alone after other family members on Thursday, and who left Balmoral for Heathrow at 8.15am. His wife Megan is at Frogmore Cottage, Windsor, with the couple now expected to extend their planned week-long stay in the UK until his grandmother's funeral.
As Charles addressed the nation, a congregation of 2,000 members of the public joined the prime minister and senior ministers for a memorial service at St Paul's Cathedral. A queue of hundreds had formed several hours before the service, which included the first official rendition of the national anthem as it returns for the first time in 70 years to God Save the King.