Apple's new iOS 16 operating system was released today for the iPhone. The major new version includes a brand new customizable Lock Screen experience, the ability to unsend and edit already sent messages, and multi-stop routing on Maps as some of its most notable additions.
Being Apple, privacy and security are also important points of focus. Here's what's new in iOS 16 in these areas, why they're important, and how to use them.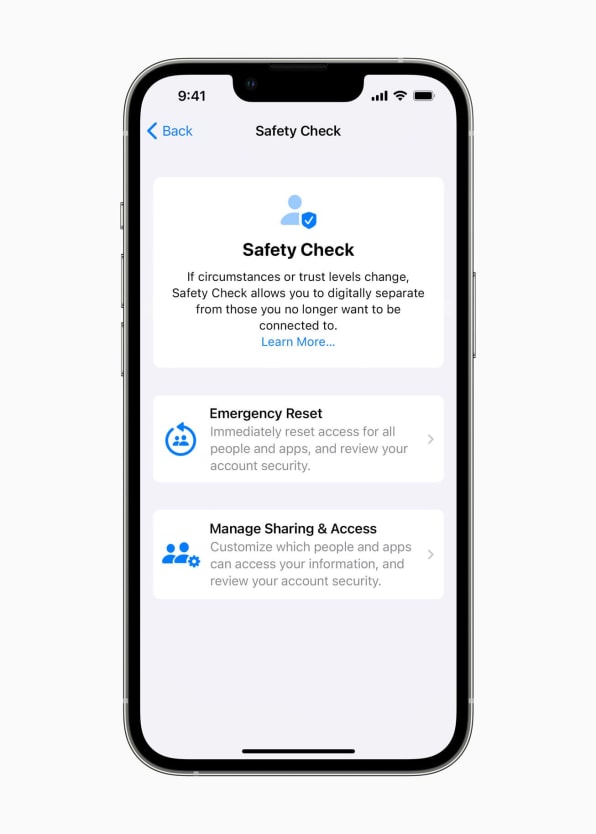 Protect your most private photos
What is: iOS 16 now lets you lock your hidden and recently deleted albums in the Photos app behind Face ID or Touch ID biometric security, depending on your iPhone.
Why it's important: We often have personal and private photos on our phones that we don't want others to see—like intimate pictures of partners or photos of a disturbing home we want to discuss with our doctor. The Photos app has long allowed you to move those images to a hidden album, but now you can lock that album behind Face ID or Touch ID so that no one with access to your phone can see them. The same goes for your recently deleted album.
How to use it: Open the Settings app and tap Photos. Now, toggle the switch next to "Use Face ID" (or Touch ID) to enable biometric security for these albums.
Keep your thoughts safe with lockable notes
What is: As with the Photos app above, iOS 16 also lets you lock your notes of choice behind Face ID or Touch ID biometric authentication.
Why it's important: Some people use the Notes app for simple things like grocery lists. But others keep sensitive information – like credit card PINs or Social Security Numbers – written there for quick reference. Before iOS 15, you could lock individual notes in the Notes app behind a passcode, but iOS 16 makes it a lot easier, letting you lock them behind Face ID or Touch ID — with no passcode to remember.
How to use it: Open the Settings app and tap Notes > Passcode. Choose the manual method you want to use to lock Notes (your iPhone screen lock PIN or a passcode), then toggle the switch next to Use Face ID (or Touch ID) to enable biometric security for your selected notes.
Use Face ID in landscape orientation
What is: Previously, to unlock your iPhone with Face ID, you had to hold it in portrait orientation. Now with iOS 16, Face ID unlock also works in landscape orientation.
Why it's important: It's not safer, just more convenient. Many people use their larger-screen iPhones in landscape orientation for apps like games and watching videos, and now they don't have to rotate the phone to portrait orientation to use Face ID. However, Face ID in landscape orientation only works with the iPhone 13 series and later.
How to use it: After installing iOS 16 on your iPhone, just use Face ID as you normally would, but now in landscape orientation as well as portrait orientation.
Stop apps from seeing what's on your clipboard
What is: When you copy something, like text or an image, it lives in an invisible clipboard on your iPhone. Then, when you open another app and paste whatever you copied, that app pulls the data from your clipboard. But now in iOS 16, apps need your explicit information to access information in your clipboard.
Why it's important: Some apps have been found to automatically pull information from a user's clipboard without the user's knowledge. This could lead to them having access to sensitive details such as parts of copied private messages.
How to use it: In iOS 16, clipboard permission protection is automatically enabled. When pasting information into an app for the first time, you'll see a popup asking if you want to allow the app to paste. If you deny permission, the app can't see the information on the clipboard.
See the people and apps you share data with
What is: In iOS 16, the new Security Check feature is a privacy and security check that allows a user to quickly disconnect their data from people and apps "if circumstances or trust levels change."
Why it's important: Over time, we may share more of our information—such as location, photos, and calendars—with apps and people. It's possible to forget who has access to our location, for example, if we gave it to them a long time ago. However, Security Control lets iPhone users quickly see which people, apps, and devices have access to their data and revoke access to it.
How to use it: Open the Settings app and tap Privacy & security. Then tap Security Check. Finally, tap Manage Sharing & Access and the Safety Check wizard will guide you through a review of your data.
Cut them all with the emergency reset
What is: In an emergency, iOS 16 lets you revoke access to your data from all people and apps.
Why it's important: Our phones can reveal our location, route and other personal data to people and apps we've previously granted access to. However, Apple is aware that domestic abusers often use this data to track and control their victims. Now, victims who need to get away from an attacker in a hurry can quickly cut off the attacker's access to their data and immediately change their Apple account password.
How to use it: Open the Settings app and tap Privacy & security. Then tap Security Check. Finally, press Emergency Reset and the Emergency Reset wizard will guide you in revoking data access.
Quick exit from Security Control
What is: A way to hide the fact that you are attempting to use Security Check from an abusive partner.
Why it's important: Apple's new Security Check features are great security measures. However, the company also understands that using the feature could put people in immediate danger if a violent partner is nearby and looking over their shoulder. That's why the company has a simple security measure called "Quick Exit" that will automatically close the Security Control and Settings app and return the user to the home screen.
How to use it: No matter what stage of Security Control you are in (Settings > Privacy & security > Security Control), you can tap the "Quick exit" button in the upper right corner of the screen to quickly return to the home screen.
Go into lock mode
What is: Lockdown Mode is an extreme security measure designed by Apple for journalists, activists and others who may be targeted for hacking by state-sanctioned actors. Entering lock mode disables many iOS features, but also shuts down the most common attack vectors from bad actors.
Why it's important: iPhones are important tools for journalists and activists, who are increasingly targeted by governments around the world. In these cases, the victims' very lives could be at risk.
How to use it: Most iPhone users will never need to worry about turning on Lock Mode. However, anyone can access it by going to Settings > Privacy & security > Lock mode and following the on-screen guide.