Cristian Romero walks through the door and the sound of laughter follows him. He just shared a joke with Hugo Lloris in one of the corridors of the Tottenham Hotspur Way home. He's still smiling as he takes his seat in the busy canteen.
"I think team cohesion is the best thing we have," says Romero Sky Sports. "We live together very well as players and we get along very well every day. I think that's the most important thing."
We meet just two days after Tottenham were beaten in the Champions League by Sporting Lisbon, a setback that ended their unbeaten start to the season. But there is little appetite to dwell on it. The mood is high after the morning workout.
"It was a difficult game, but losing is part of football," says Romero. "Of course, we don't like it very much and, clearly, it wasn't our best game. But it's only the beginning. We have to believe that things will go well if we keep working the way we are."
FREE WATCH: Highlights from Tottenham's win against Fulham

It's an attitude that has served Romero well.
Fiercely combative in the way he defends and yet miserly in possession, the centre-back has become a key figure for Spurs since his arrival from Atalanta in August last year and his impact has not gone unnoticed.
"There's something special about him," she said Sky Sports' Jamie Carragher when he named Romero his signing for the season in May. "He's not the biggest defender but he's smart, he's active, he's cool on the ball. I think Tottenham have got a real player there."
Saturday 17 September 17:00

Start 17:30

Spurs paid £42.5m to make his loanee permanent this summer, with the Argentinian signing a five-year deal with the club having moved to the Premier League as a natural despite the "big difference" in style from Italy's Serie A . , where he had flourished over the previous three seasons.
"Serie A is much more regular," he says. "There are many more pause in the game. This is partly due to the referees, who don't let the game go as far. Here, the ball is always in play.
"All the teams are also very aggressive, and the majority of them have a good way of playing and are also aggressive. Physically, they are all at a very good level and that means the games are always very, very competitive between the two teams."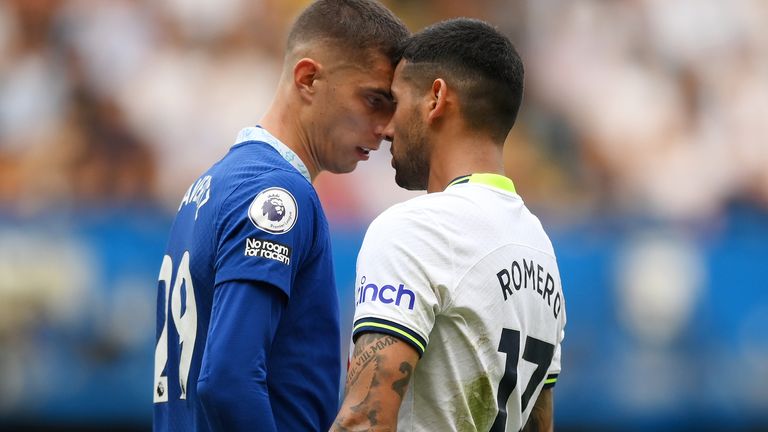 It's ideal, in other words, for a player who enjoys the physical side of the game as much as Romero.
"Yes, yes, yes," he says, smiling.
"The Premier League has always been one of my favorite leagues, so when I had the option to come to Tottenham it was an easy decision and I was very quick to finalize my transfer here.
"Fortunately, my first season went well. I know I still have a lot of things to improve, but I will try to do it."
That first season, while an undoubted success – culminating in a fourth-place finish in the Premier League that secured Tottenham's return to the Champions League ahead of north London side Arsenal – was not without its challenges.
Romero spent three months on the sidelines after suffering a hamstring injury shortly after Antonio Conte replaced Nuno Espirito Santo in November. All the while, he had to adjust to a new country and, above all, to a new arrival home.
"At first it was difficult, mainly because my wife was seven months pregnant and there were a lot of changes," he says. "Luckily, he supported me in the decision I made, as he always does, and now everything is good off the field.
"Family is the most important thing to me. Obviously, football is my passion and I don't take it for granted. I know I'm lucky to be doing what I love. But the most important thing is family."
His son, Valentino, arrived safely in December. So, how does he sleep? Romero smiles. "Better now. He's great, he's growing up. I don't always have a lot of time away from the pitch because we train a lot and travel a lot, but whenever I'm at home I love it and we're always together as a family."
Romero clearly has a sensitive side, but out on the court he is a different beast, fiercely aggressive, unafraid of confrontation and, at times, admitting to being guilty of overstepping the mark.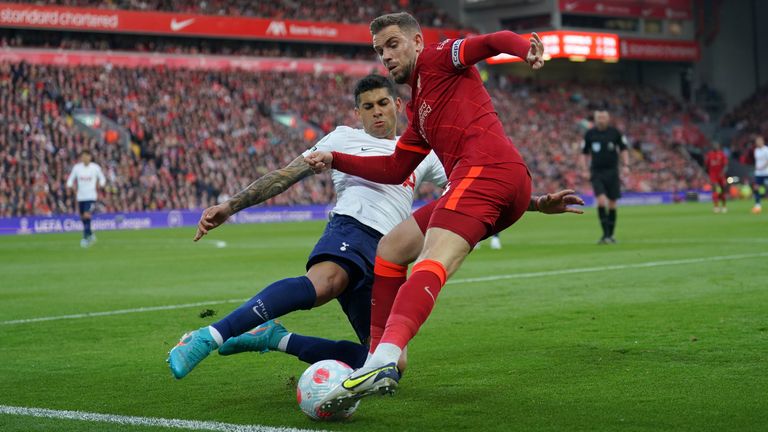 The 24-year-old arrives in England having picked up 39 yellow cards and three reds in 102 appearances in Italy and there have been notable flashpoints in England too, including pulling Marc Cucurella's hair for which he was lucky to escape punishment at Tottenham. 2-2 draw with Chelsea in August.
"It really depends on the game," he says of his fiery streak. "I always try to give maximum respect to opponents. If something bad happens, I always think about it and apologize.
"This season, I think I'm doing better in that regard," he adds. "I know it's something I have to improve on, but I've only had one yellow card in the games I've played so far this year."
Spurs fans love Romero for his competitiveness – "I'm always grateful for the support they give me," he says – and the same traits can be seen in new team-mate Richarlison.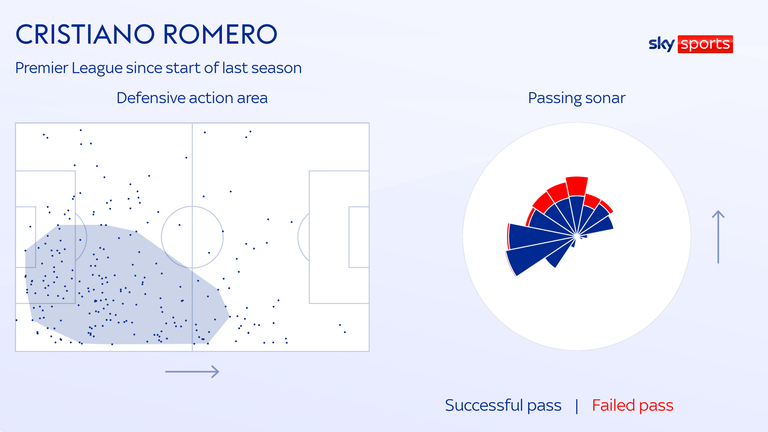 The couple has a history. They clashed when the Brazilian was playing for Everton last season. But all that is firmly behind them now and Romero's admiration for the 25-year-old is evident.
"He's brought a lot to the team," says Romero. "He is a player who is a bit different to the ones we already had. He is a player who gives everything, all the time.
"We have Harry Kane, who, for me, is the ultimate talent and one of the best strikers in the world. [Heung-Min] Son and [Dejan] Kulusevski, who also make the difference.
"But Richy gives us different things and that's something that I think is contagious."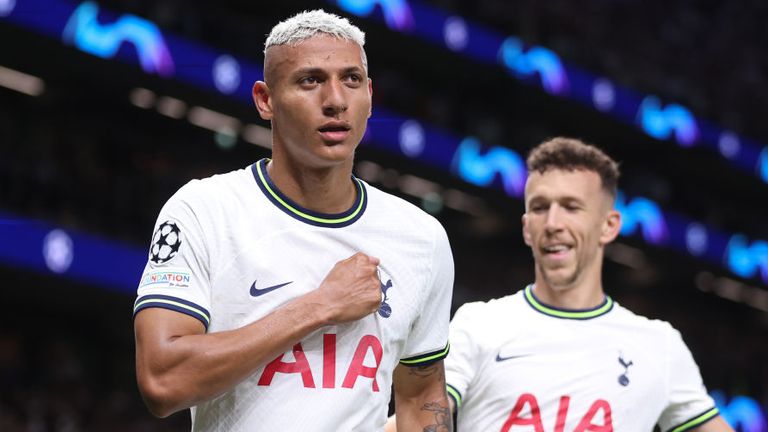 Richarlison is already thriving under Conte and so is Romero of course. The defender is still dealing with English. This interview is conducted in his native Spanish. But language was no barrier to his progress under Italian.
"He is a coach who has helped me very regularly," he says of Conte. "The career he's had shows how good he is and I think we're on the right track. Every day I wake up with the desire to keep learning."
That openness to learning has certainly helped the Spurs.
I just want to repay the faith the club has shown in me. I hope things continue this way and I'm here for a long time
Romero played in the middle of a back three for his previous clubs Atalanta and Genoa but, under Conte at Spurs, was moved to the right.
"It's very different. My favorite position is in the middle because that's where I've always played, but I play on the right and for the national team now and I'll happily play wherever I'm asked, so they don't have a problem with that.
"At first it was difficult for sure, but I got used to it and learned the role. I have to keep learning and correcting a lot of things, but I'm good and I feel comfortable there."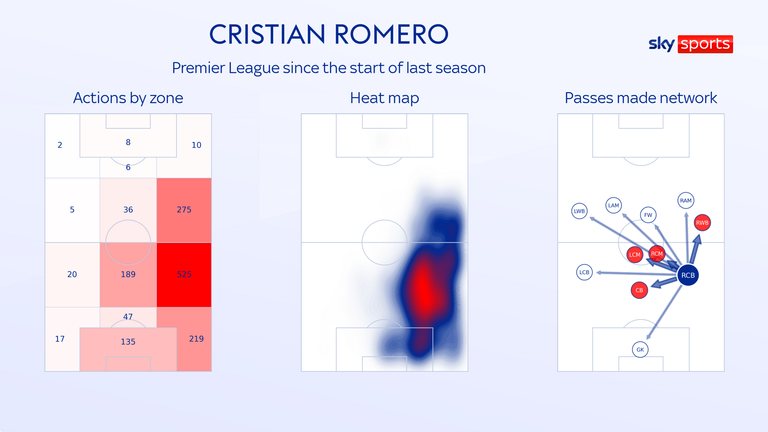 Romero had the same appetite for self-improvement from his youth. As a teenager at his boyhood club Atletico Belgrano in Argentina, he studied Barcelona – "their team that won everything" – and, in particular, their central defenders.
"I've always loved watching this team because I loved watching Carles Puyol and Gerard Pique, as well as Javier Mascherano when he played there. Those three were beautiful to watch."
What about these days? "Today, the best defender for me is Virgil van Dijk, always, and Lisandro Martinez from Manchester United.
"For me, they are the best in the Premier League."
Romero knows Martinez well from Argentina's national team, but his most glowing praise is reserved for Lionel Messi, another team-mate at international level.
"Messi, for me, is a different class of player," he says. "I've never seen a player like him in my life. He does incredible things and I don't think there's any comparison. It's great to play with him."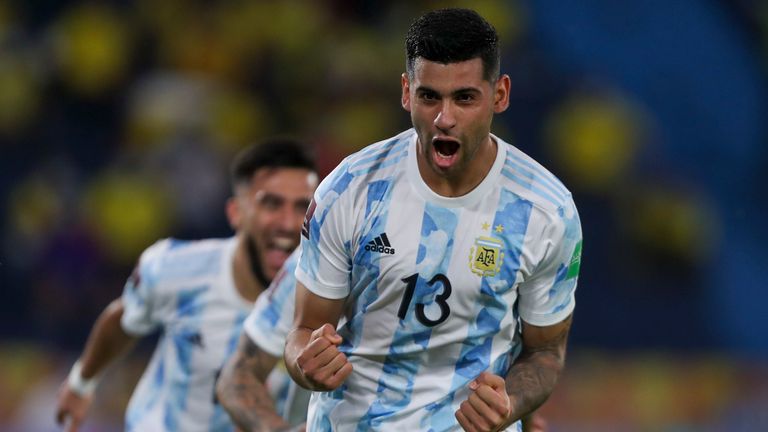 Romero hopes to follow up Argentina's Copa América triumph last year with more success at the upcoming World Cup – "of course, that's on my mind," he says – but for now his focus is on Spurs.
"I just want to repay the faith the club has shown in me," he says.
"There are many years ahead if the club wants it and if everything goes well. I hope that things will continue in this way and that I will be here for a long time. Things have gone well. Last season, we achieved our goal of qualifying for the Champions League and we were very happy".
And what next? Does he see Spurs as contenders for major honours?
"Talking is easy," he says. "But we have to show it on the pitch. We have a good squad of players to win trophies. We just have to convince ourselves.
"It's early in the season. We're still a long way from it. We just have to go step by step, improving the things we need to improve. But I think we're on the right track.
"We have to believe that if we keep going like this, with the work we've done and the work we're doing, we can achieve great things."
Watch Tottenham v Leicester live on Sky Sports Premier League from 4.30pm on Saturday. start 5.30 pm