The vegan snack aisle can be a depressing place, filled with funky flavored chips that don't taste much like cheese and seeded crackers that could break a filling. Fritos and pretzels are generally fine choices, of course. But sometimes a modern man just wants to be hit in the face with the full onslaught of processed flavor. Heat. Spice. Burn.
As I opened a bag of Good Eat'n Nacho Cheese Tortilla Chips—part of a new line of plant-based snacks that 12-time NBA All-Star Chris Paul is launching today with delivery service GoPuff—I had admittedly low expectations. But a moment later, when the signature aroma of fluorescent orange umami powder reached my nose, those expectations changed. And as I took my first bite, my tongue was tingling from all the spices. My salivary glands were as overwhelmed as if I'd popped a legit Dorito, and without the slightest whiff of vegan pseudo-dairy.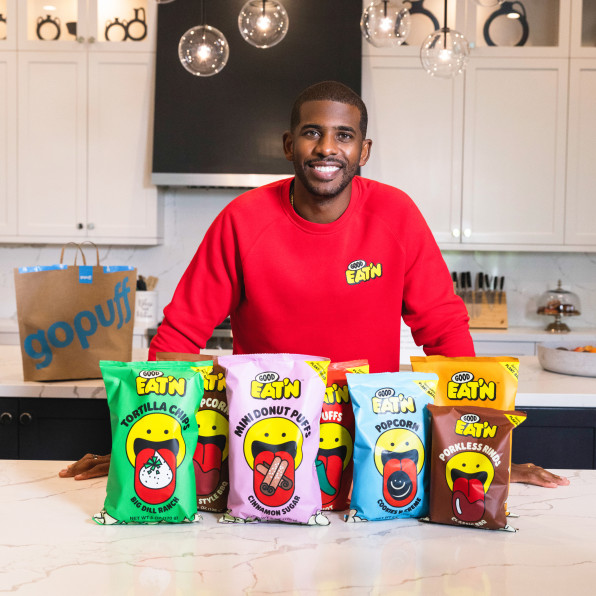 "I was born and raised in the South," Paul tells me later, "and if you say the word 'vegan' to anyone in the South, they'll look at you like you said a curse word. Our snacks are not for vegans. It's for people who eat – which is everyone."
I have to give it to him, his snacks are super tasty. They also represent an important evolving strategy for GoPuff, the $15 billion grocery delivery startup that is reported to be eating up cash as it gains market share alongside rivals ranging from Amazon to Instacart. GoPuff doesn't want to be just a 30-minute delivery service for essentials. She wants to make her own exclusive products that are so enticing that you'll use the service to get them (along with ordering lots of groceries).
GoPuff has previously launched products with celebrities such as actress Selena Gomez (Serendipity Ice Cream), YouTube star MrBeast (Feastables chocolates) and musician Cardi B (Whip Shots). But those partnerships were with brands that were built externally and brought to the distribution platform. With Good Eat'n, GoPuff has created something else: A celebrity brand mashup, built from the ground up, available exclusively on the platform. (Paul, who invested in GoPuff in 2021, also owns an equity stake in the Good Eat'n brand, just as Michael Jordan owns a piece of Nike's Jordan Brand.)
GoPuff believes that, one day, Good Eat'n may break out of its exclusive reach and land on retail store shelves. But for now, Good Eat'n is built entirely to entice more people to order more items on GoPuff.
"We use ours [logistics] platform. . . to give customers what they want at an affordable price," says GoPuff co-founder and co-CEO Yakir Gola. "This is a key priority."

Making the brand
Paul hasn't been sitting in ice baths between games making his own spice mixes from scratch, but he's been heavily involved in the process of building the Good Eat'n product and brand — testing samples with friends and family at his home in Phoenix for the last year and a half of development. Three years into eating vegan himself, which he adopted in an effort to speed up his recovery between games, Paul is credited with helping GoPuffs tap into an open corner of the market: plant-based snacks. These are not "healthy" plant-based snacks, but snacks that indulge American excess, with bold flavors and dazzling branding.
"Food is an experience. It should be. I grew up eating everything," says Paul. "In the plant-based world, I've eaten just for nutritional value. This shouldn't happen."
GoPuff gave Paul a development team that worked with food vendors to develop a line of delicious plant-based snacks that cater to Paul's own sweet (and salty) tooth, including Classic BBQ Porkless Rinds, Cookies 'N Creme Popcorn and Cinnamon Sugar Mini Donut Puffs. Paul can't stand the taste of cheese, so market data and friendly taste buds helped inform savory options, such as the aforementioned Nacho Cheese Tortilla Chips, along with Big Dill Ranch (aka Cool Ranch) Tortillas Chips and radioactive red Hot Hot Puffs (crunchy like a Cheeto made from a raw polenta). GoPuff already knew that spicy items were consistently at the top of their snack category, so tackling Flamin' Hots was a no-brainer.
Are snacks healthy? We'll let the nutritionists discuss that. Pork-free skins are made from fava beans, for example, and you can pronounce most of the ingredients you see. But they're still packed with fat, sodium and often sugar. and you won't find particularly redeeming protein or fiber numbers. GoPuff and Paul, however, don't claim to sell real health food, more like a snack that satisfies a niche: a "healthy" plant-based treat on a budget that puts Whole Foods to shame. The products sell for just $3.29 to $4.29 a bag—a price that Paul and GoPuff hope can bring some much-needed funds to the otherwise expensive plant-based lifestyle.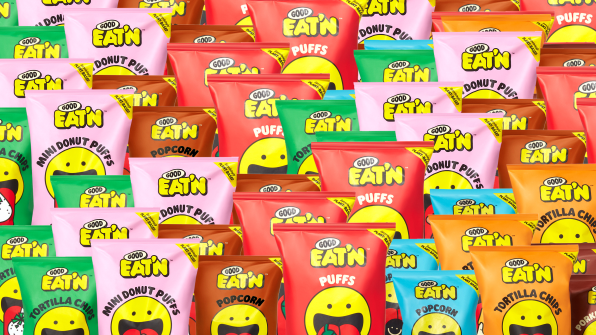 Positioning the business model
Targeting such a niche — affordable vegan snacks — might seem like an odd priority for GoPuff, but in fact, selling house brands is key to the company's future business — which, despite growing revenue by 60% this year , necessitated the layoffs of 1,500 people and the closing of dozens of fulfillment centers. One bright spot of news was GoPuff's Basically line, launching in early 2022, which includes a wide variety of staples ranging from toilet paper to peanut butter-filled pretzels. Today, Basically is not just a top brand on GoPuff. Its bottled water is consistently one of the top sellers (both in terms of total units and revenue) across the service.
For GoPuff, selling its own products makes extra sense because it already has a distribution network of about 700 warehouses that stock its inventory. (Your GoPuff driver doesn't stop until 11/7 to pick up candy and dishwasher detergent, and even competitors like InstaCart have started building warehouses to avoid the inefficiencies of a person picking up items at a retail store.) This house brand The strategy is almost identical to that used by Target, Walmart and Amazon, which sell more of their own products alongside private labels to maximize profits. But GoPuff's move with Good Eat'n is especially bold: Instead of copying existing tried-and-true products on the cheap, the company is trying to take on a relatively new category, with one of the most famous faces in sports. While it basically tried to create a retail line that won on price, Good Eat'n is trying to win on taste and branding — and that's what makes it a relatively radical move for a delivery service.
Ultimately, Paul couldn't be happier about the unique super-speciality of this collaboration and dubs the project, "one of the coolest learning experiences and one of the most fun things I've ever been a part of."
And that last bit carries over to the brand identity created by Utendahl Creative, which features yellow smiley faces on each brightly colored bag. Because before we hang up, Paul grabs his phone and holds it up to the camera to show a wallpaper he's been using since 2019. It's a craft project from his daughter, with a big, yellow emoji face winking at sky blue background.
"This is a painting by my daughter in 2019 when I was playing in Houston. [While] it had nothing to do with the creative, this is the same color as the bag of cookies and cream flavor," he notes, convincingly enough that I initially assumed he was actually holding a photo of his own bag of popcorn. "I literally got goosebumps. It's almost like it manifested."