"Grepeats, Roberto." Even when Eddie was just saying hello, every word flowed more smoothly when he spoke – or wrote – them. And whether he was chatting with his colleagues in the press box, or delivering those impossibly brilliant, cheerful TV voices, you'd want to hear more. Which, of course, is exactly how we all feel right now.
It is little consolation that the Monmouthshire bard has amassed so much in his 65 years. Rugby player, storyteller, commentator, novelist, linguist… there was almost nothing he couldn't do when he put his mind to it. Not many have ever captained their country in rugby union, he was a British and Irish Lion and then become a famous broadcaster, rugby correspondent and fantasy writer. Just to bask in the reflected glow of his multiple talents was enough for the rest of us.
He was always modest about it, however, and unreservedly generous even to those of us who hadn't played for Pontypool in an era when men were men and the visitors finished a distant second. These sides of 'Pooler' were terribly tough, and 'Educated Edward' or 'Bamber' as he was called (he had been educated at Cambridge University) was not chosen by chance.
Although when his eyes began to glaze over, perhaps after a few drinks or if one was in danger of taking too many liberties, the old steely edge could momentarily reappear.
It was all an integral part of a multidimensional life. He grew up between the rivers Usk and Wye, but his grandfather was a steel worker in Scunthorpe and his father was a research manager at the nylon factory in Pontypool. Sometimes he and other 'Poolers' would train on Sunday mornings on the old trams above Blaenavon and 'change with the canaries in their cages' in the showers of the Big Pit which was then still a mine.
Playing for Pontypool also taught him a lot, most notably an appreciation of what unflinching forward play looked and felt like. If there was a soundtrack to those Pontypool Park years, it was generally the noise of the metal nail to the bone. "We lost quite a lot of games," said Eddie. "Not necessarily on the scoreboard. We were simply removed from other clubs' fixture lists."
However, with the Guardian/Observer hacks, they were consistently good company. If something amused him, a familiar melodious "hmmm" – almost like a cat purring – would audibly appear. And when his imagination was engaged, his sense of adventure was never far behind. "Come on, Roberto, where next?" Once, en route to an Observer cricket match in Sussex, he convinced our then colleague Norman Harris that it would be a lot more fun to boycott the A-roads that helpfully drive along the coast. We sailed right into the lot on a gloriously absurd scenic tour of southern England, laughing louder than a mile.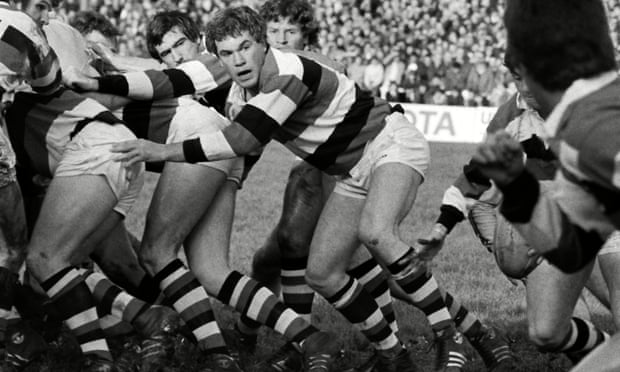 When they shared the same rugby pages with Eddie, there was also no chance of him cutting anyone else's piece. They have never been one to follow the herd, nor do they declare the bleeding obvious. Assuming, that is, that he had actually played the game. Once, heading to watch Bath v London Scottish at the Recreation Ground, he fell asleep and only woke up as his train pulled out of Bath Spa station. No problem, he thought, he'd be off to Chippenham or Swindon and back soon enough. Unfortunately the next stop was Reading. He entered the Rec just as the final whistle blew.
Then there was the famous Observer column fantasizing about Austin Healey on the eve of the crucial final Test on the 2001 Lions tour of Australia.
When he tried to finish the column with his new friend Austin, unfortunately the Englishman was in the hospital having a scan. "Write whatever you want," Eddie was told. The next thing Healy knew he was being dragged over the coals by a frantic Graham Henry, demanding to know why he had called Wallaby lock Justin Harrison a "plank" and a "bunk". No one could ever accuse Eddie of lacking an impressively wide vocabulary.
As many remember, some of his TV bon mots were just as memorable. "Oh, England, what have you done?" it was famously when the home team broke through at Twickenham in 2008. 'And Wales, what are you doing?' Personally, though, I preferred to tease him about his comment on archery at the London 2012 Olympics. "And there's another good one from South Korea…" It's heartbreaking to think that Eddie has left us now and we all send our love to Susan and family. No more suggestive voices. No more "Greetings, Roberto". But if you listen really hard, you can still hear it. The timeless voice of all our rugby winters.