Euro 2022 top scorer Beth Mead opened her domestic account for Arsenal with a fine double as the Gunners won 4-0 against Brighton in a late start to the Women's Super League season.
But ever the perfectionist, Mead believed they and indeed Arsenal could have scored more at Meadow Park, telling Sky Sports News: "I'm a bit disappointed with some of my chances tonight. I think I should have scored more and us As a team, we could have put a few more away, but four goals and three points was what we wanted.
"I thought we played really good football, it was just our last ball and the final finish in the first half. We were a bit more clinical in the last third of the second half. We've set the standard now and you have to keep setting it higher."
Friday's match saw the start of the 2022/23 WSL season after last weekend's matches were postponed following the death of Queen Elizabeth II. But Arsenal did not let the extra wait affect them as they dominated against the Seagulls.
Admittedly, Brighton's night didn't get off to a good start. Within seven minutes, Emma Kullberg was shown a straight red card after a trip on Stina Blackstenius just outside the area. Referee Lisa Been ruled the foul not a penalty, but as the last defender, Kullberg was sent off.
Arsenal finally pulled the trigger in the 28th minute. Caitlin Foord's cut-back found Gunners captain Kim Little inside the area. She took the ball around a sliding defender before firing past Megan Walsh.
While it was the only goal of the first half, you sensed more to come after the break and within five minutes, Arsenal had doubled their lead. It was a thunderous finish from Blackstenius (50), who was picked out on the right of the area by Mead. She took a touch before slotting home her first goal.
Arsenal winger Meade then took center stage with two goals of her own. The first came in the 63rd minute as she met an instinctive cut from Miedema before slotting into the back of the net.
Just 20 minutes later, Frida Maanum saw her initial effort saved by Walsh. But Meade – who won the Euro 2022 Golden Boot with six goals – lurked inside the area to collect the loose ball before firing home to complete a resounding Arsenal victory.
How Arsenal secured their first WSL win
Although Arsenal failed to capitalize on the direct free-kick after Kulberg was sent off, they continued to probe and press for the first kick. Foud led the shot count but couldn't quite find the net – shooting wide in the 22nd minute before facing an inspired Walsh, who also kept her out.
Brighton's only shot of the half came in the 26th minute. Debutant Elisabeth Terland struck from a tight angle, but her effort curled wide of the far post and did little to worry Arsenal goalkeeper Manuela Zinsberger.
After Little's opener, Arsenal could have added a second five minutes later. Mitema broke up Blakstenius with a superb ball, but the Swede's effort only managed to clip the top of the post. Miedema tried to score on the rebound but Walsh managed to see the effort behind. The goalkeeper also stopped Lia Walti's thunderous shot just before the break.
Team news
Euro 2022 winners Leah Williamson and Beth Mead started for Arsenal. Summer signing Lina Hurtig was among the substitutes.
Chelsea loanee Jorja Fox made her Brighton debut. Poppy Pattinson, Vea Sarri and Elisabeth Terland also made their first appearances for the club.
There was a glimmer of hope for Brighton minutes after half-time, with Katie Robinson replacing Libby Bunce for the second period. She also came close to equalizing, collecting a nice pass from Turland, but her shot was well saved by a diving Zinsberger.
Despite the score at the time being 3-0, Brighton keeper Walsh continued to make a number of good saves throughout to keep Arsenal from scoring. One of those came when the Gunners had the ball in the net in the 73rd minute but it was ruled out for offside. Mead's effort was well saved by Walsh before Miedema pounced on the rebound, however the flag was up.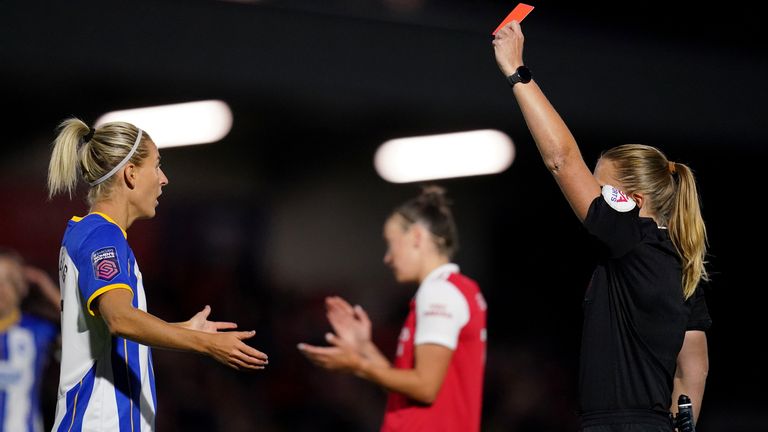 Arsenal went close again soon after and hit the woodwork for a second time. Meade cleared the ball beautifully for Jordan Nobbs, but the latter's effort hit the crossbar before going wide.
The Gunners eventually added their fourth just before full-time through man of the moment Mead, putting a marker in front of their opponents who play their opening games all weekend.
Mead: We could have scored more
Arsenal goalscorer Beth Meade on Sky Sports News:
"It's good to be back at Borehamwood with a big crowd and good to start the league with three points. I'm a bit disappointed with some of my chances tonight, I think I should have scored more and as a team we could have put a few more away , but four goals and three points was what we wanted.
"I thought we played really good football, it was just our last ball and our last finish in the first half. We were a bit more clinical in the last third of the second half. We have set our standards now and we need them to continue to set them higher.
"It's super exciting [to have a sell-out crowd] and, as we said, this summer is just the beginning. But we don't want it to just be a buzz for a few weeks or months, we want everyone to come during the season. We want bums in the seats so fingers crossed they keep coming to the games."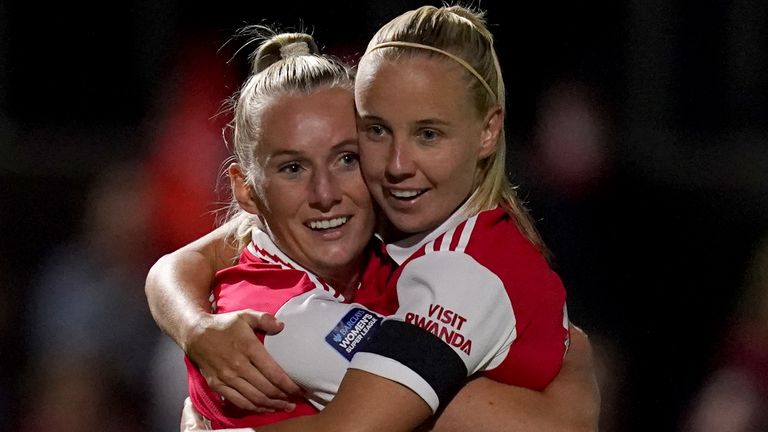 Eidevall: Important win
Arsenal manager Jonas Eidevall on Sky Sports News:
"The most important thing is to win. I'm also happy with a lot of what we showed on the pitch.
"We showed a lot of intensity, we gave a few too many counter-attacks and I think we would have scored more if we had a little more quality in the final actions. But for a start, it was good for us.
"It was a consequence of what happened in the first half because we excited them a lot in the first half and they were very tired in the second. Then the gaps and spaces grow to play and they didn't have the energy to press at all at the end. They were two very different games.
"I thought Beth grew into the game. In the first half, she had a lot of touches, but once she scored, you could see her confidence flying into the game. It was a strong game from her, but from the whole team, it was a strong performance ».
Powell: Tough game, but proud of the team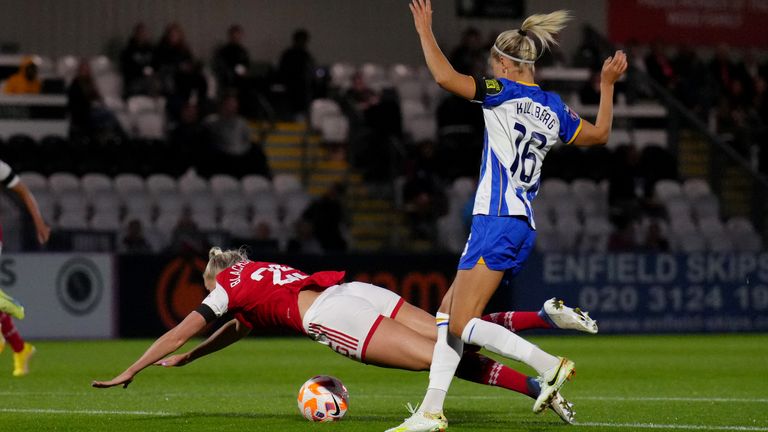 Brighton manager Hope Powell on Sky Sports News:
"A really tough game. It was very difficult to lose a player so early and from then on, your game and your strategy has to change completely very quickly. I thought we did really well, but when you play with one less player against a team like Arsenal, it is very difficult.
"We did well in the first half, we created some chances. We knew going into the game they were going to have more possession than us so we had to be very organised.
"But I'm very proud of the girls, I thought they were determined and fought until the end. We were beaten by a better team who had one more player than us.
"I have to see it [the red card] back, I initially thought it was offside. From where I was, I thought it looked cruel, it looked like an accident, so I'm really surprised that he aborted her.
"But she's the referee, I'm not. She makes that call there and then, but for us, we had to change things and I think the girls were great in their effort and I couldn't have asked for more."
What's next?
Arsenal begin their Champions League qualifiers on Tuesday as they host Ajax in their first leg. They then face Tottenham in the North London derby at the Emirates on Saturday 24 September. start 1.30 pm
Brighton next play in the WSL on Sunday 25 September as they host Reading. start 2pm
What else is happening in the WSL this weekend?
After Arsenal's win against Brighton, there are still five nerve-wracking fixtures to go…
Saturday, September 17
Manchester United vs Reading
Sunday, September 18
Aston Villa vs Manchester City
Leicester City vs Tottenham
West Ham vs Everton
Liverpool v Chelsea, live on Sky Sports Football from 5pm